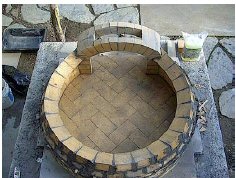 Pizza Oven Plans
Forno Bravo has a great series of e-books available for free download on its web site (registration required).
Included are step by step plans for 3 styles of authentic Italian brick pizza ovens. Recommended.
Also available are oven management, cooking and bread books, and a great pizza book.
(Aug 12/08): James reports that there have been 11,000 downloads of the oven plans, and 25,000 downloads of the other books.
Pizza oven from Forno Bravo plans, by MHA member Scott Goodman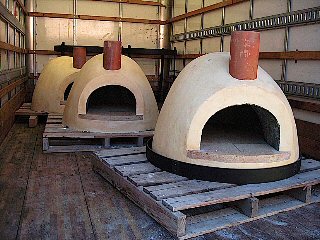 New Forno Bravo Primavera oven manual
Norbert Senf checks out the Primavera oven
Forno Bravo dealer in the U.K.
Also:
Online Brick Oven Forum
The Forno Bravo forum has 5,000 registered members, and is the largest online brick oven forum.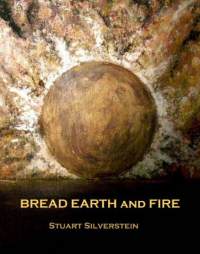 Bread For All
"Everything about bread, earth/mud and clay ovens"
- very cool blog by Stu Silverstein. Check it out.
Click here to order
"So, you want a wood-fired oven to bake bread and have pizza parties? What should you build? How does it work? What else can it cook? As an oven-builder I hear these questions a lot, but the books I can recommend for cooking with fire say little about ovens, and the ones about bread and ovens don't take you very far with cooking.
So I'm glad to now be able to recommend Richard Miscovich's From the Wood-Fired Oven. He speaks with the authority of a professional baking instructor (and cook), an experienced mason, and a neighborhood baker; he also writes well, takes beautiful photos, and has a wealth of stories to tie it all together. He's worked with leading professionals in many fields, and teaches from extensive experience with bread, pizza, meats, vegetables, desserts, etc., as well as ovens, masonry, fire, heat, and more."--Kiko Denzer, author of Build Your Own Earth Oven
Ovencrafters - simple, high efficiency insulated design developed by Alan Scott. Proven in a range of sizes and applications including home, restaurants and bakeries.

Click to join him for a seminar.

Alan Scott, 72, Artisan of the Brick Oven, Dies
New York Times, Feb 6/09
Click here to order.
by Daniel Wing and Alan Scott

Definitive work on authentic hearth breads.
Includes instructions for building a backyard bake oven.


"Wing and Scott do more than get the details right: they get the right details. It is difficult for me to imagine any baker, amateur or professional, coming away from this book without having learned something significant, even profound, about the art of bread baking."
-Thom Leonard, author of The Bread Book


How to Build a Portuguese Pizza Oven
Good set of instructions for building this type of oven

Woodfiredpizza.org
Good site with instructions for an Alan Scott style oven.


August Vanderdonckt's detailed photo record of building an Alan Scott oven.


Step by step Alan Scott style oven at backyardbrickoven.com

Build Your Own Earth Oven (3rd Edition)
Click here to order

A simple, fully-illustrated handbook for making an oven from earthen materials (similar to adobe and cob).

Provides clear, step-by-step instructions for building and firing the oven. Also complete directions for making sourdough bread in the best (and simplest) artisan tradition.


Check out Kiko's great blog and archive on oven building on ovens and earth art

Backyard adobe - We built this simple oven at our neighbour's 20 years ago. It is based on the traditional Québec oven shape, an elongated dome.

Click on image for assembly photos.




Frank's Pizza Oven
Instructions for building a loam oven. Good pizza info.
Good list of oven links.

Building an Horno: the Adobe Bread Oven
by Michael Moquin - Detailed adobe instructions.

Brick Oven Map on Google
August Vanderdonckt writes:
The map allows brick oven fans to find out if they are close to somebody who already has one.
It enables people to upload pictures, communicate with each other directly and locate ovens geographically.

Ben's Art - nice selection of clay ovens modeled on "Bread Ovens of Quebec"


Ovens by Rado Hand. He has an extensive Wood Burning Oven Website, including oven plans,
pizza instructions, and more.


Oven for the British climate, by Melvin Nevitt.


Oven built by Mike Iapalucci from Rado Hand's plans. Detailed constructions photos.


Portable cob oven in France - detailed constuction photos, instructions en francais

Stone Turtle Baking and Cooking School
Learn how to use a wood fired oven.

Prefabricated Ovens - These can simplify the construction process a great deal

Fornobravo: precast and prefabricated brick ovens from Italy. The site includes a very detailed set of
brick pizza oven plans
EarthStone - Good website.
Grills n'Ovens - handbuilt one piece ovens from Portugal, starting at $1,500.00. The site also has oven building instructions.
Mugnaini Imports - California company importing high quality Italian ovens.
Wildwood Ovens & BBQs - Pizza ovens, Brazilian BBQ's, Commercial Churrasqueiras
Renato Precast Ovens - the oldest oven precaster in the United States.
Fayol -Excellent oven made from a unique clay deposit in Provence, France, that has been used for ovens since Roman times.
Wood-Firedoven.co.uk - dealers for Forno Bravo, Le Panyol, also custom handbuilt ovens in Britain
Beech - Australian dome shaped oven that appears to be very well engineered. Excellent website.
Superior Clay - Affordable clay oven manufactured in Ohio

Backyard Gourmet - lightweight, assembled
Golden Embers - Australia, South Africa
Fireit - low cost castable oven from Britain
Fired up Kitchens - import 3 lines of ovens from Italy


Pat Manley recently built a kitchen bake oven for Billy Joel
at his house on Long Island.


Malaspina College Oven Assembly Sequence




Hikary Fukazawa, a participant at the 2003 French bake oven workshop, returned to Japan and built his own oven. Hikari writes:

Here is the picture of my bake oven.
Our bakery is going so well.
Last Saturday we sold out 30 pizza at the Saturday evening market.
Of course I baked by wood fire.
Every day my wife Shuko is baking 10kg wheat flour and selling out in a short time.
We will increase products little by little.
But we will keep making hand made bread.


Russian Bake Oven Drawings



(above) Amish style "Squirrel Tail" oven at Old Salem, NC- see MHA 2000 Meeting for some details. on this, and on a backyard pizza oven workshop.

Ben Sotero and crew with the new teaching oven at the San Francisco Baking Institute.
details
BlackOven
Good site by a brick oven enthusiast, including recipes and baking info.
Castable Oven
step-by-step construction photos of a refractory concrete oven.
Commercial Castable Oven
good photos of the manufacturing process, including a unique safety test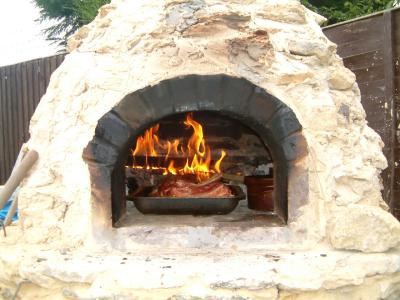 Bakeoven by Doug Wood.

Click on image for more information
Commercial Ovens
Traditional French commercial ovens

Montreal Style Bagel Oven by MHA Member Alex Chernov
Toronto, December 2008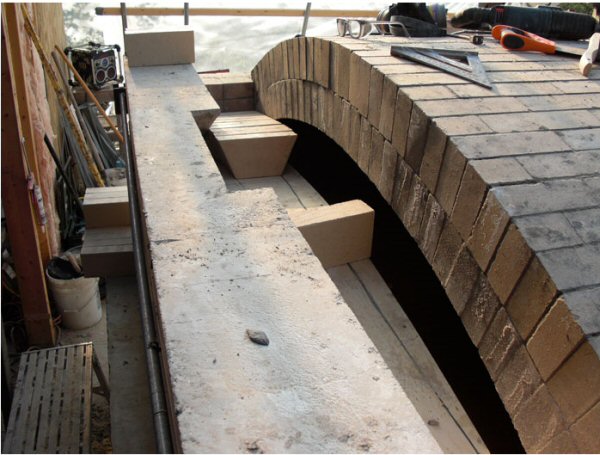 Commercial Bread Ovens by MHA Member William Davenport, Turtlerock Heat
Little Stream has become very successful. This is their new oven with a 6 ft. X 9 ft. hearth. and a 6 ft. wide loading door.

An 80 kg. load of wood currently bakes about 800 2lb (1 kg) loaves.
Spanish Llopis oven with revolving hearth, Acme Bakery, Berkley.

The Farjas is similar.
German 1930's Commercial - this plan is from a German masonry textbook from the 1930's.
1900's American - the oven at Black Diamond bakery in Washington state has been in continuous use for over 90 years. It has a 10 foot by 12 foot hearth. Photos.
Historical oven in Waterdown, Ontario. We partially documented this recently unearthed 10 X 10 oven.
---
Our Excel spreadsheet template that simplifies "baker's percentage" sourdough calculations
Interesting Links
Boulangerie Anna
Anna is my sister in law. She became a bread head about 10 years ago after working at Terra Breads in Vancouver. She now has her own bakery on the French Riviera, and it is one of the best bakeries in France.

The Bread Bakers' Forum
Comprehensive website maintained by Beth Hinkle . Includes brick oven page, including list of builders, manufacturers, websites, books, articles.

The Bread Bakers Guild of America

San Francisco Baking Institute
Bread baking classes and bakery consulting
Cafe Beaujolais - great place, great website. They have an early Alan Scott oven.