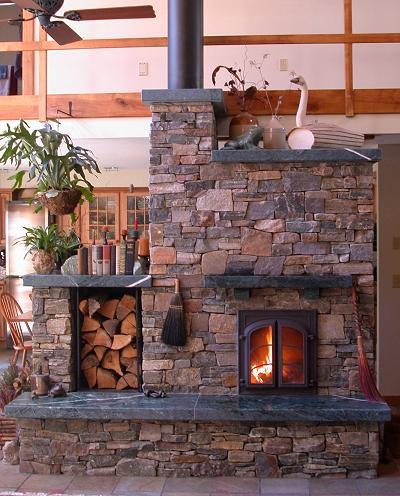 Granite facing with 3" marble slabs
Domestic hot water coil, heated bench, rear bake oven
Wood storage with Woodwaiter from basement
Finish mason: William Davenport, Turtlerock Masonry Heat, Burlington, Vermont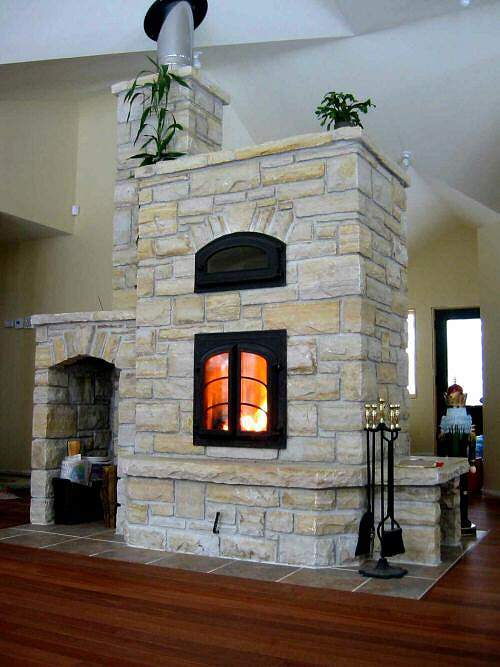 Heat Kit with bake oven.
Heater core delivered and installed
Lakefield, Quebec.
Finish mason: Dan Loyer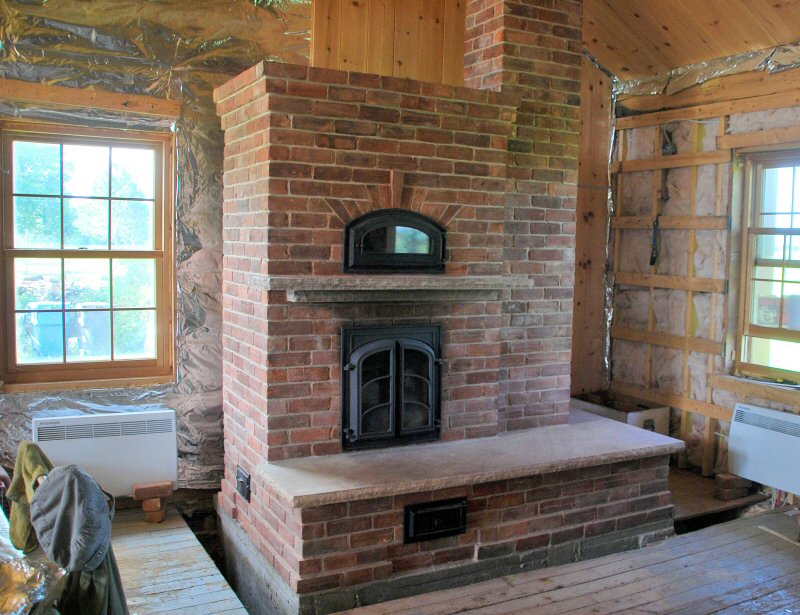 1219- BREAU:

HK 22, oven, heated bench
Recycled Ormstown brick with Rose Arc en Ciel sandstone trim
St. Martin, QC
Finish mason: Marcus Flynn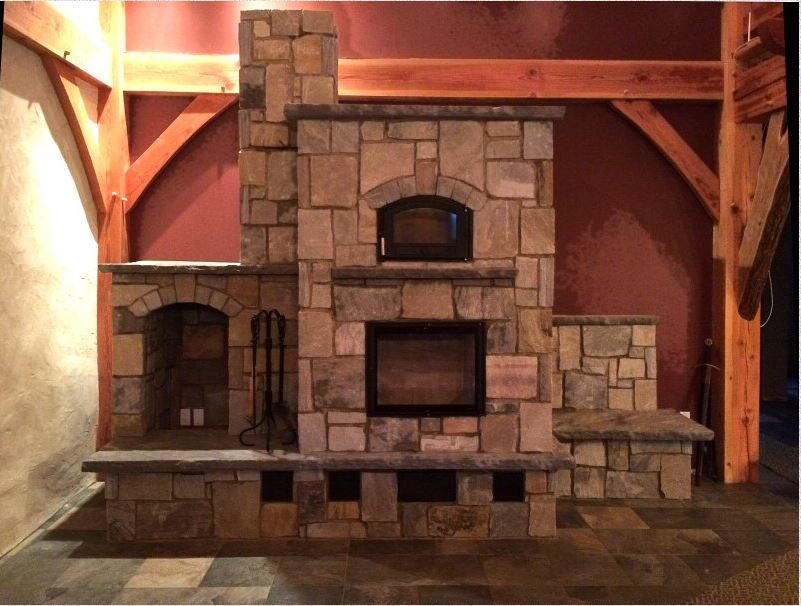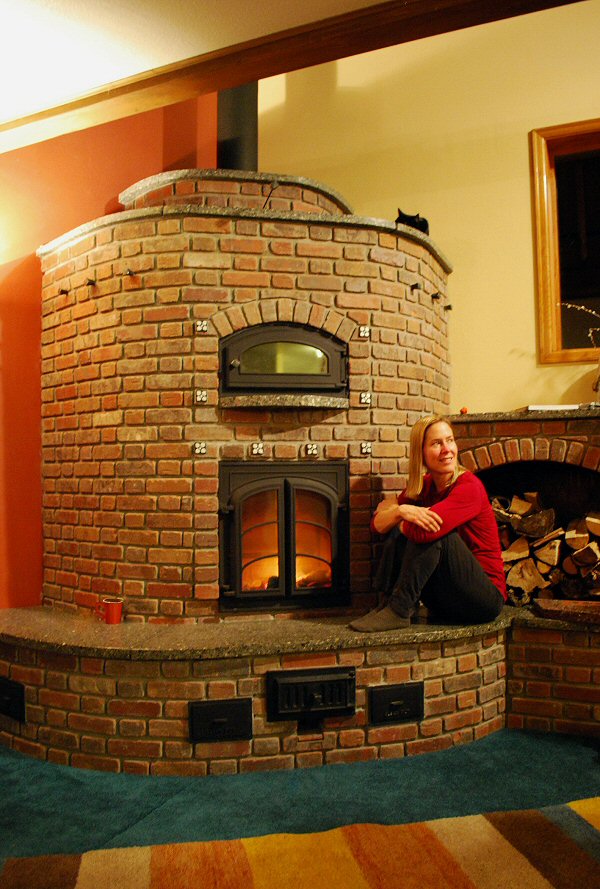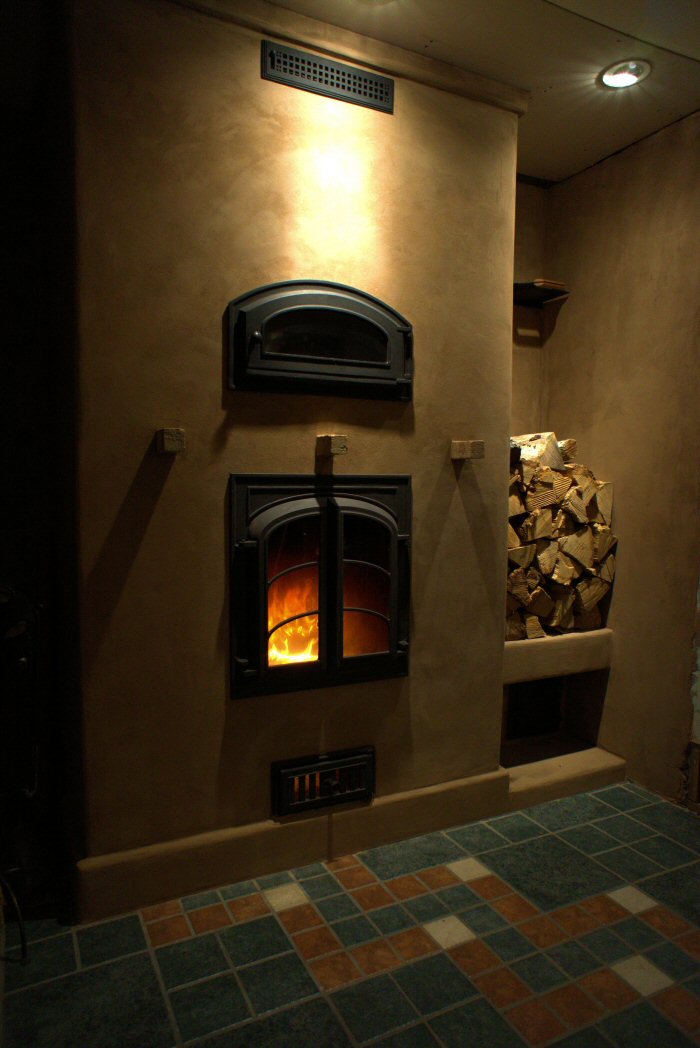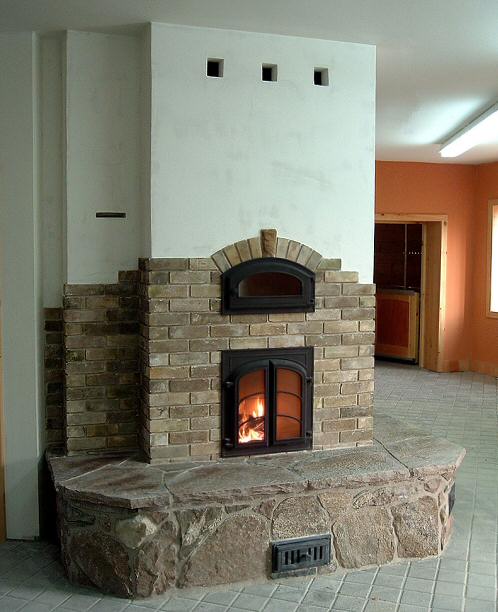 Stone, brick and stucco
Heated bench, oven
Finish mason: Alex Chernov
Uxbridge, Ontario.
Located in a 100 ft. diameter strawbale horse riding facility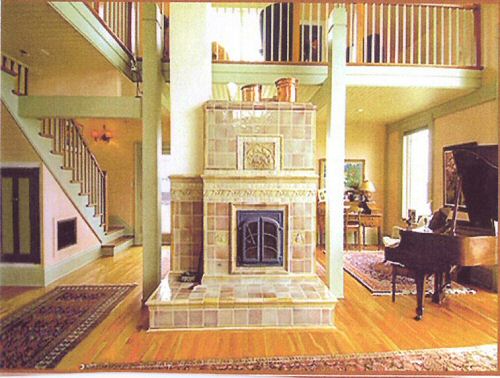 Farmhouse period renovation, Packenham, Ontario.
Custom handmade tiles.
Architect: Julian Smith & Associates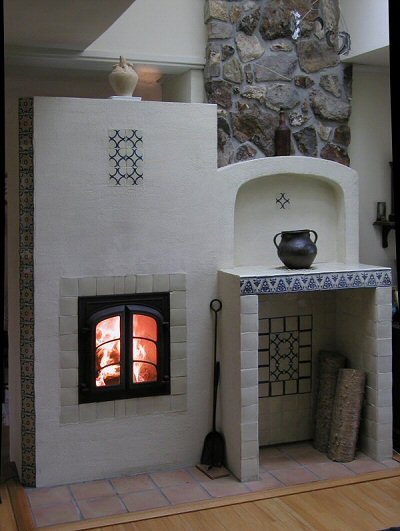 Finish work by owners
Replaces existing fireplace in home renovation
Rear bake oven
Rohrersville, Maryland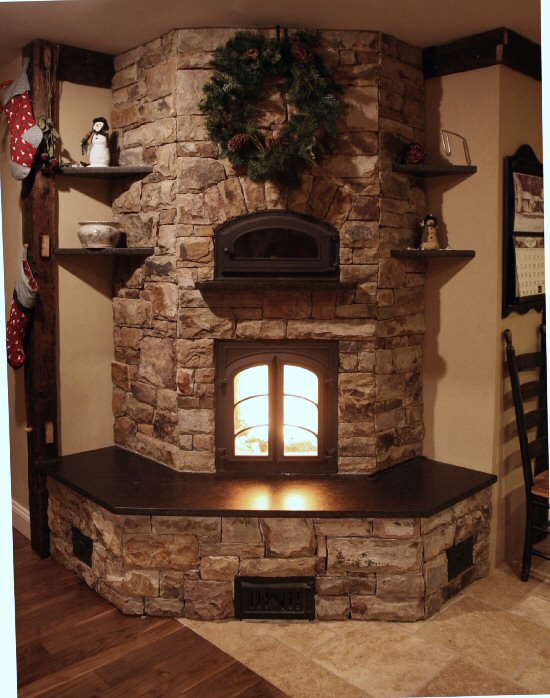 Corner heater with front oven, 2009
Lancaster County, Pennsylvania
Mason: Bob Weaver Masonry
local Mocha granite and Appalachia Autumn stone.
Stone source: shukes(at)ptd.net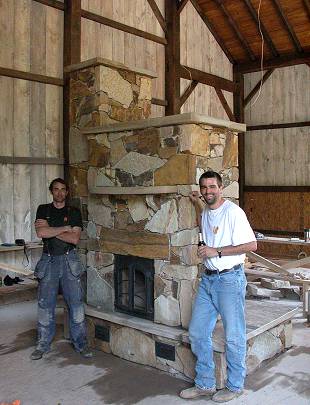 Sandstone facing
Heated bench, rear bake oven
Mason: John Fisher
Location: Birmingham, Alabama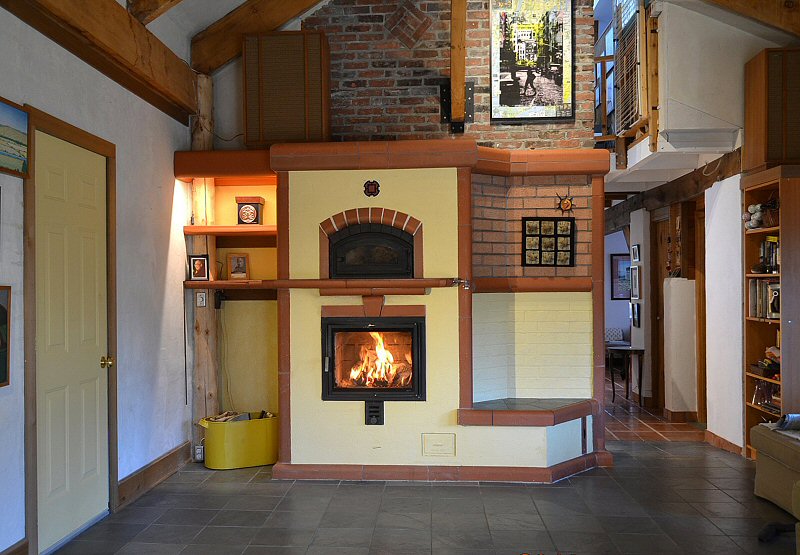 Stucco and brick facing with clay flue tile trim
Bake oven
Extra heat exchange panel above heated bench
Location: Greermount, Quebec
Completed January, 2004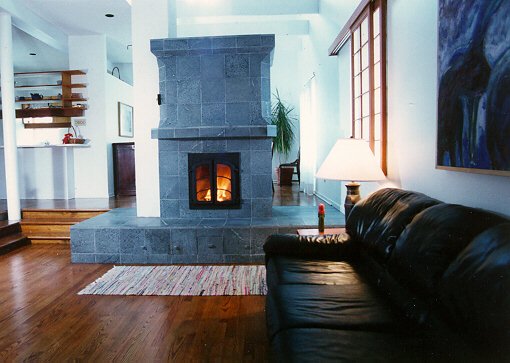 Wraparound raised heated hearth
Custom soapstone tile facing over clay brick
Stucco chimney.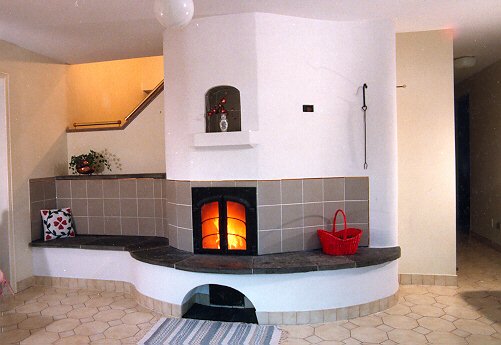 Curved masonry heater, white 3-coat stucco and gray tile
Heated sitting bench with slate top
2800 sq. ft. R-2000 house near Ottawa, Canada.
Like-new appearance after 20 years of use.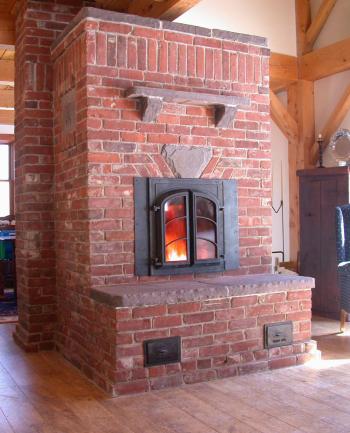 Heat Kit with heated bench
Clay brick, bluestone, thin lime mortar joints
Elmore, Vermont, 2003
William Davenport, mason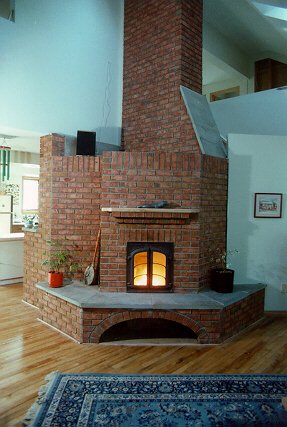 Brick masonry heater with angled sides
Brick cookstove on kitchen side
Ottawa, Ontario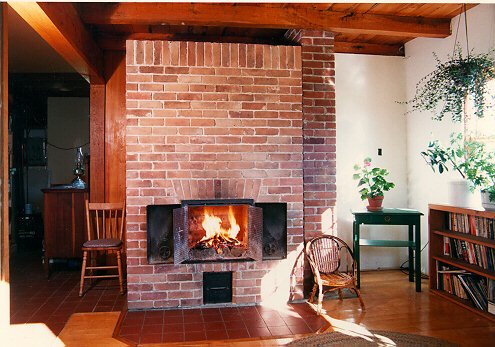 Brick contraflow heater built in 1981
First modern contraflow heater built in Canada, (Greermount, Quebec)
Recycled soft clay brick with thin lime mortar joints
No chimney deposits after 28 year of use - this heater is 1 mile from our shop, so we inspect it regularly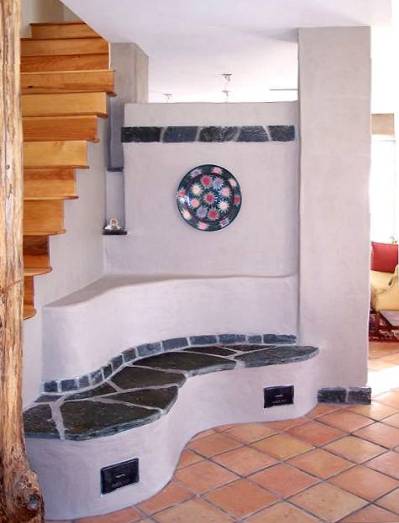 Stucco and stone, with curved heated bench.
Owner built strawbale house, Wakefield, Quebec
Finish mason: Udo Kohrmann
Click on thumbnails for larger image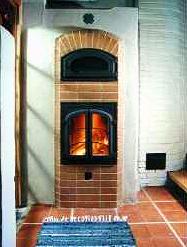 Prototype compact Heat-Kit 22 with front bakeoven
Brick with stucco directly onto core
Experimental heater number 5 in our own home.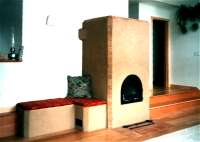 Heater with heated bench and rear bakeoven
Stucco finish with tile trim
Envirotech loading door
Heater facing and finish by local mason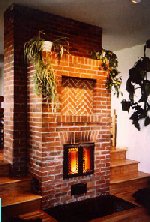 Contraflow heater built in 1985
First masonry heater in a Canadian R-2000 house
House engineered and built by Allen-Drerup-White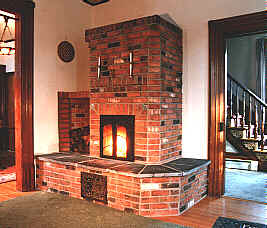 Retrofit into heritage house
Shawville, Québec
Mason (except where noted otherwise): Norbert Senf
---
Heat-Kit heaters built by clients with the help of local masons
Heat-Kit heaters built by MHA member masons
Wisconsin award winning sustainable builders.
The Masonry Heater Association Gallery
Featuring work by some of North America's top masons