Heat-Kit
Gallery
Brick Oven
Page

Bookstore
Library
Masonry
Heater
Mall
Current
Projects
Contact
Search
Links
FAQ
Client Gallery
Heaters built by clients with the help of local masons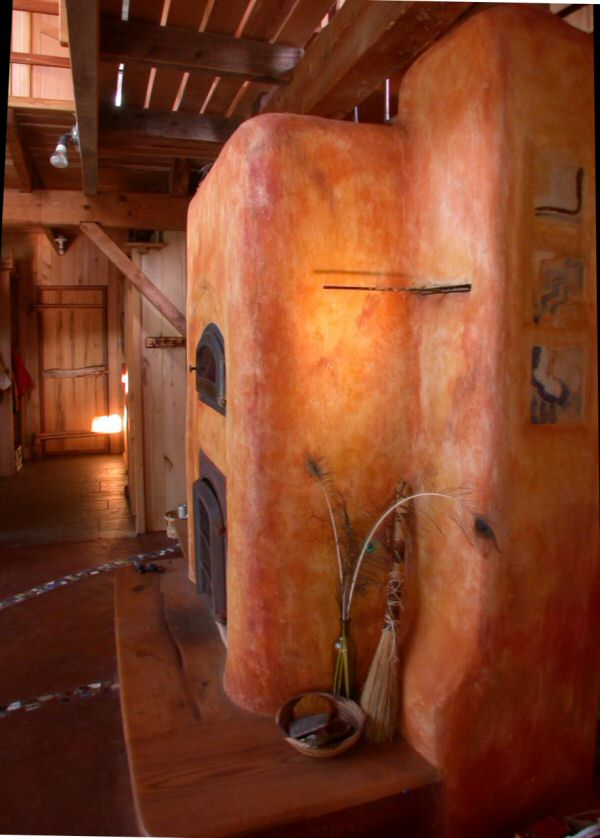 Heat-Kit with raw clay facing over brick, colored with iron oxide pigments.
Canton, NY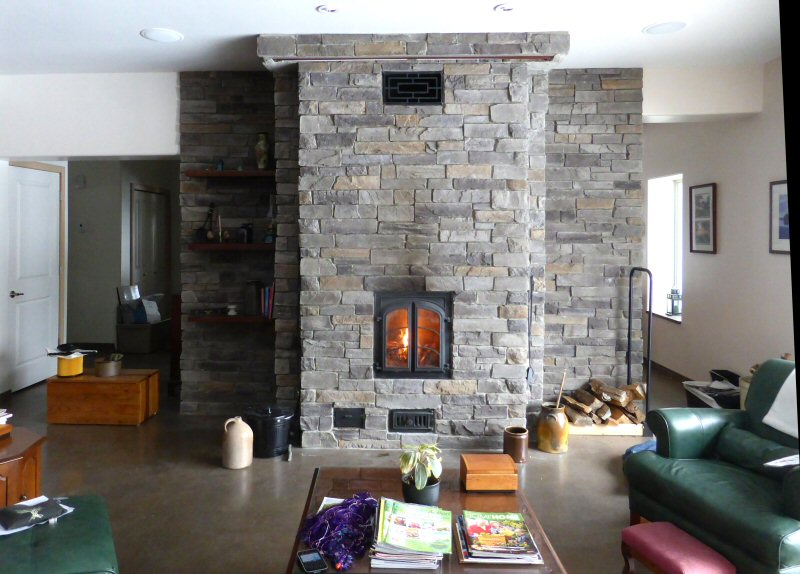 Heatkit with thinstone veneer.
Napanee, Ontario 2012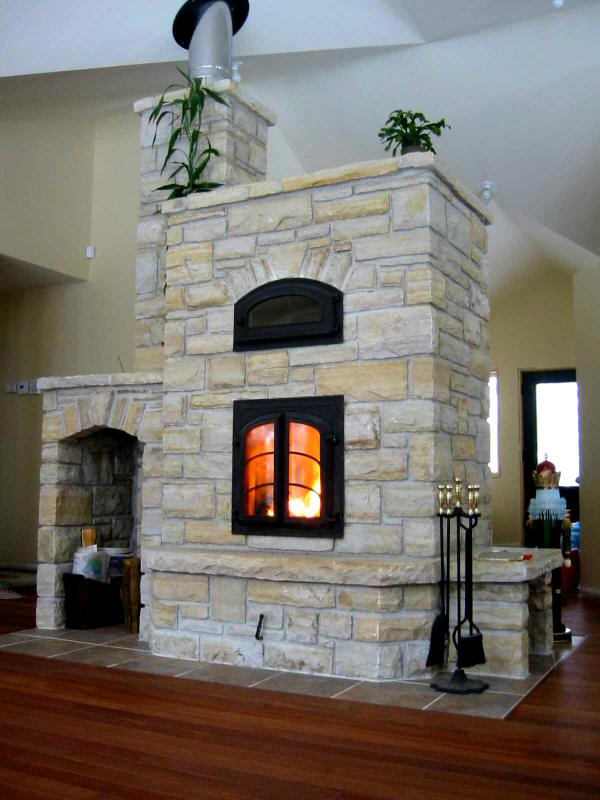 Heat Kit with bake oven. Lakefield, Quebec.
Client's preliminary design, client's floorplan
proposed dimensioned footprint, modified footprint


installed core


progress photo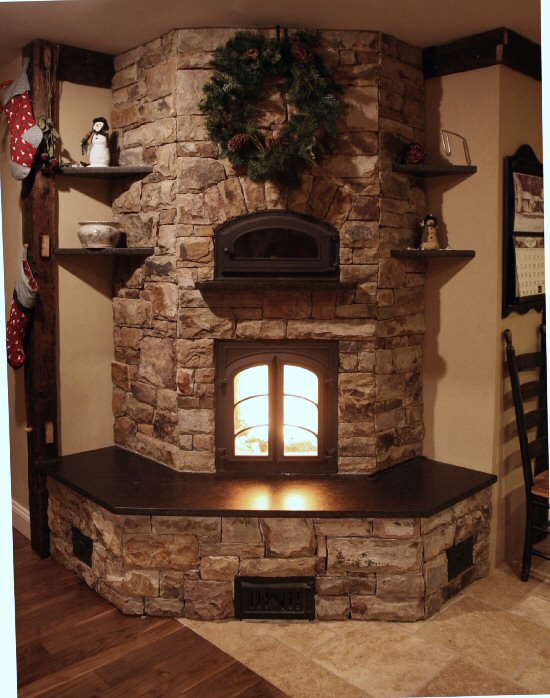 Contraflow heater, Lancaster County, Pennsylvania
Mason: Bob Weaver Masonry
local Mocha granite and Appalachia Autumn stone. Stone source: shukes(at)ptd.net
high resolution version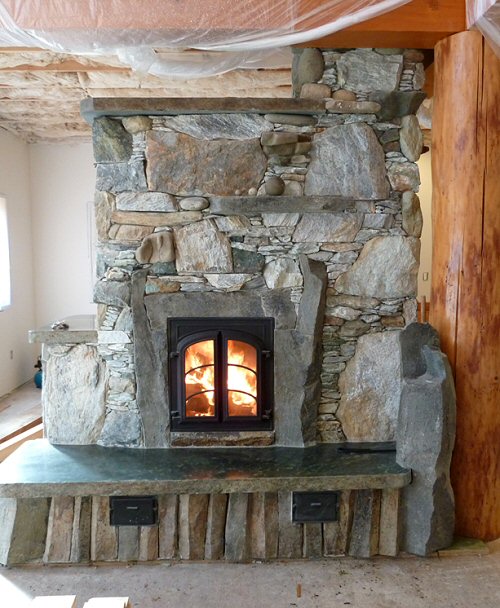 HK 22 with rear oven.
Soapstone facing.
Mason: Pier Boersma, Pillar Masonry, Bellingham WA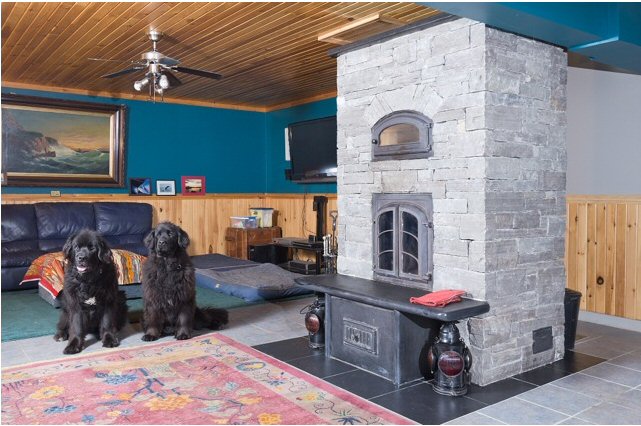 HK 22 with front ove
Bay Bulls, Newfoundland
Mason: Martin Palmer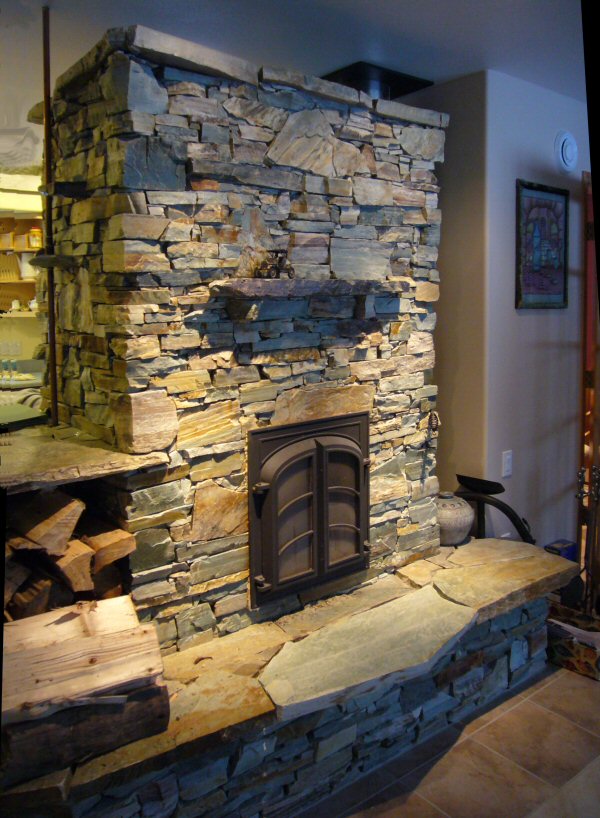 712-MILLD: HK22 w oven and coil. Juneau, Alaska.
client's footprint, elevation
Heater assembled and finished by client.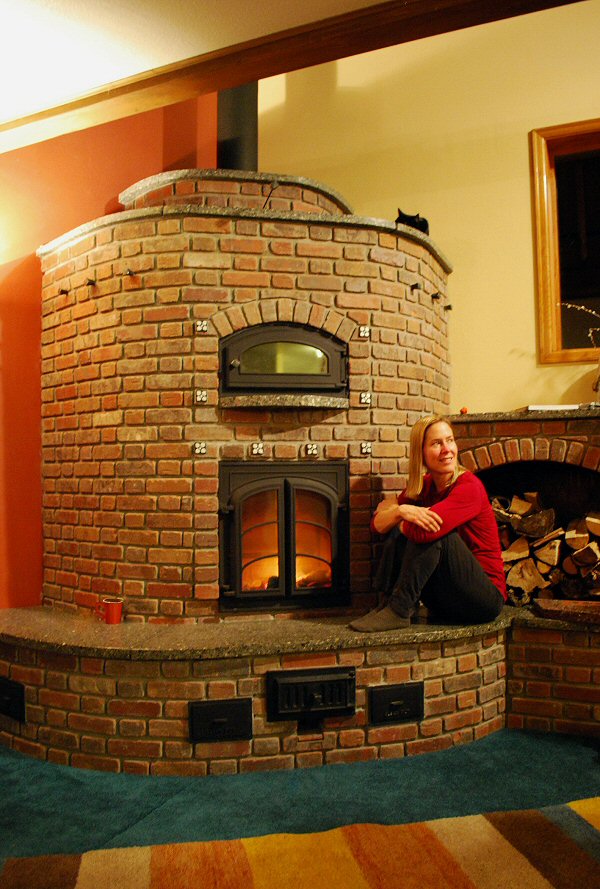 844-KENA: - HK22, corner unit, bake oven, slab on grade. September 2008.
Fairbanks, Alaska
design: iteration 1, iteration 2, iteration 3
Slab layout, finished slab,
consulting structural engineer: Dave Misiuk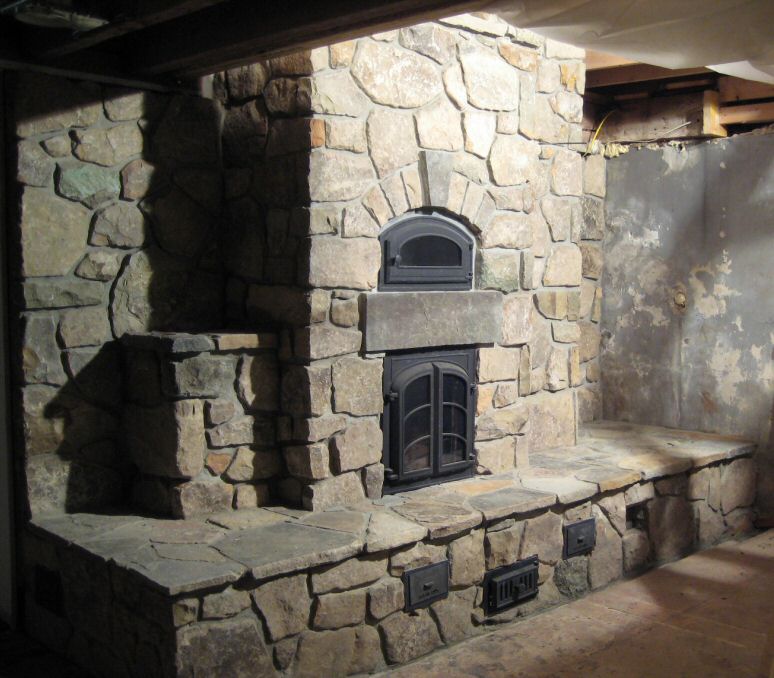 845-SUTE: - HK22, bake oven, heated bench. Shipped to West Chester, PA Sept 25/08.
Mason: MHA member Brian Klipfel, Amazin' Masons, NJ
heater rendering by Brian Klipfel
layout schematic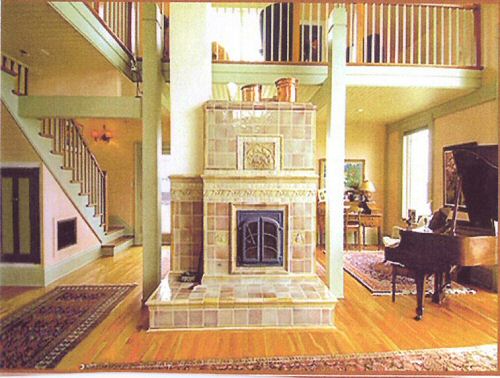 Farmhouse period renovation, Packenham, Ontario. Architect: Julian Smith & Associates
Custom handmade tiles.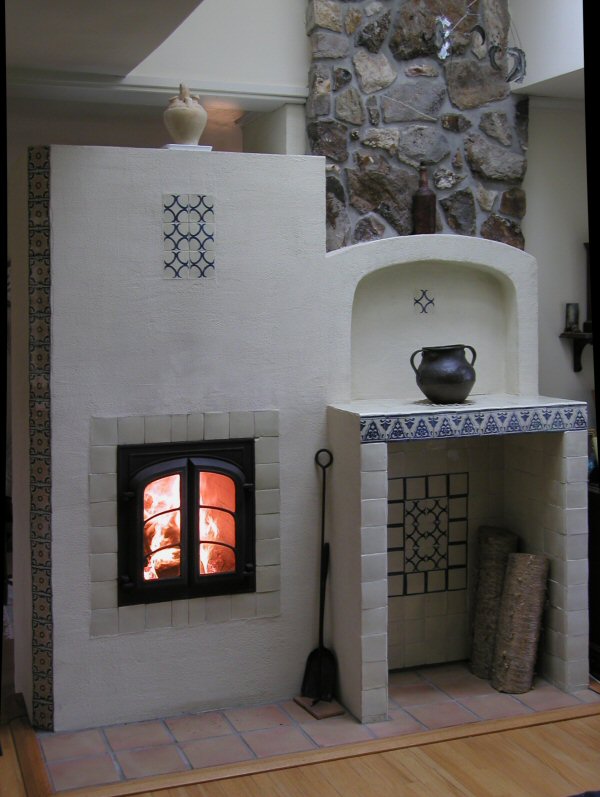 Finish work by owners
Replaces existing fireplace in home renovation
Rear bake oven
Hagerstown, Maryland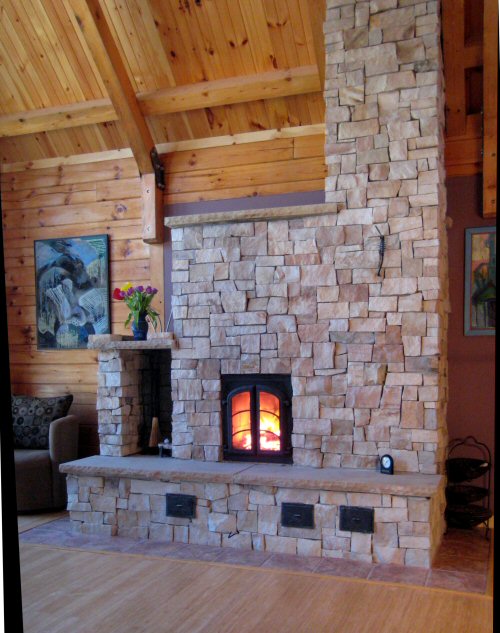 635-STEI: HK 22, see-through.. New Jersey
Mason: Brian Klipfel, Amazin' Masons


sketch by heater mason Brian Klipfel


larger version of photo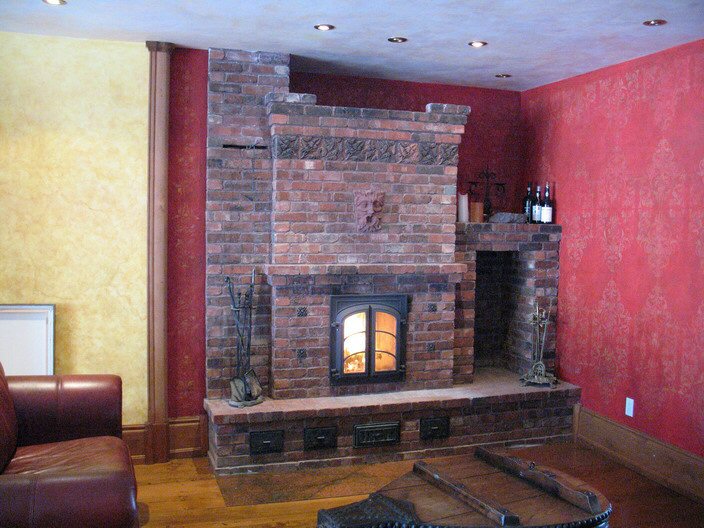 C-MCDO: HeatKit core. Delivered and installed, Montreal.


Completed core


progress photo. Mason: MHA Member Marcus Flynn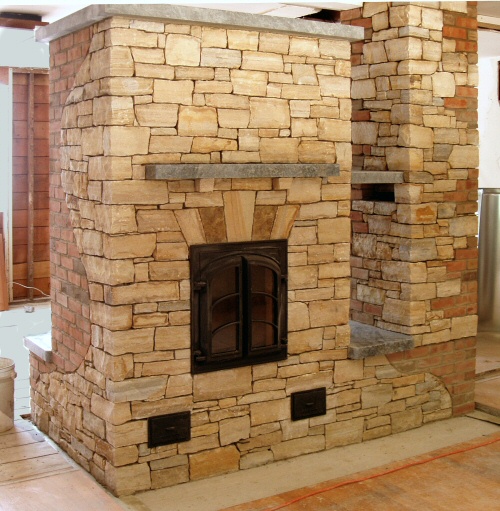 704-BUSCH05: HK22 w oven.
Shipped to MHA Certified mason, Stephen Bushway, Mass. April/07
Masons: Steve Bushway and Antoine Guerlain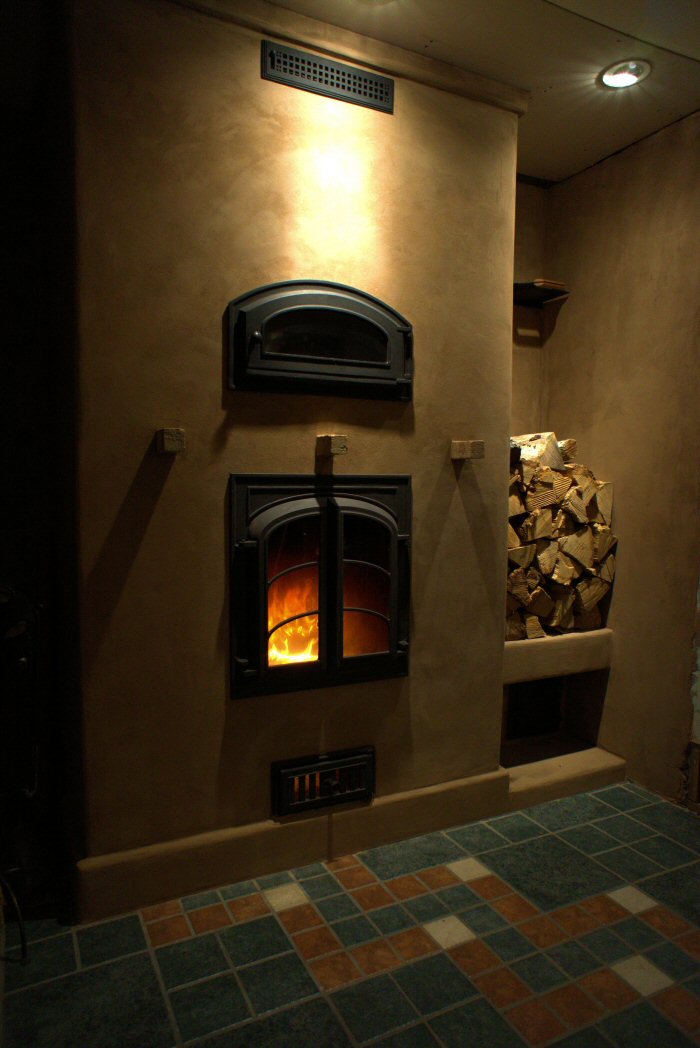 931-ROB3: HK 22, front oven, slab on grade. Shipped to Rolla, MO. Aug 21/09
.proposed footprint


client's truck picking up the core kit at the shippers,
initial layout


Client feedback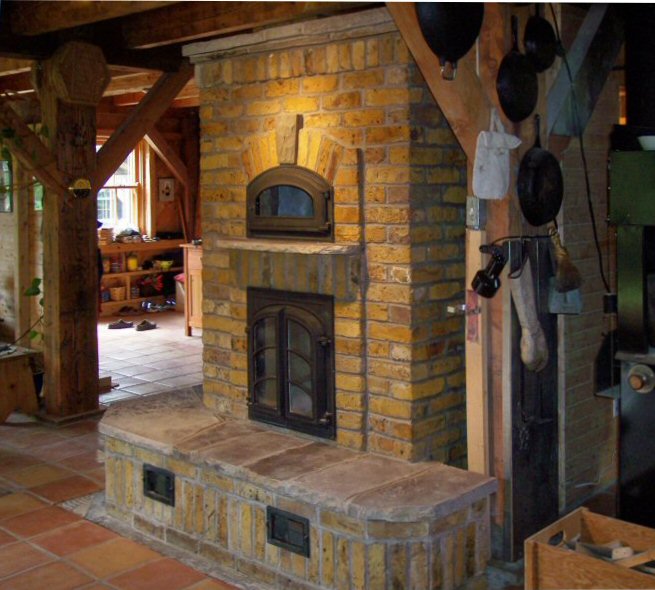 HK 22, front oven, heated bench, slab on grade.
Custom insulated bake oven door.
St. John's NF, May /09.
Heater mason: MHA member Martin Palmer
client's 3-D Autocad model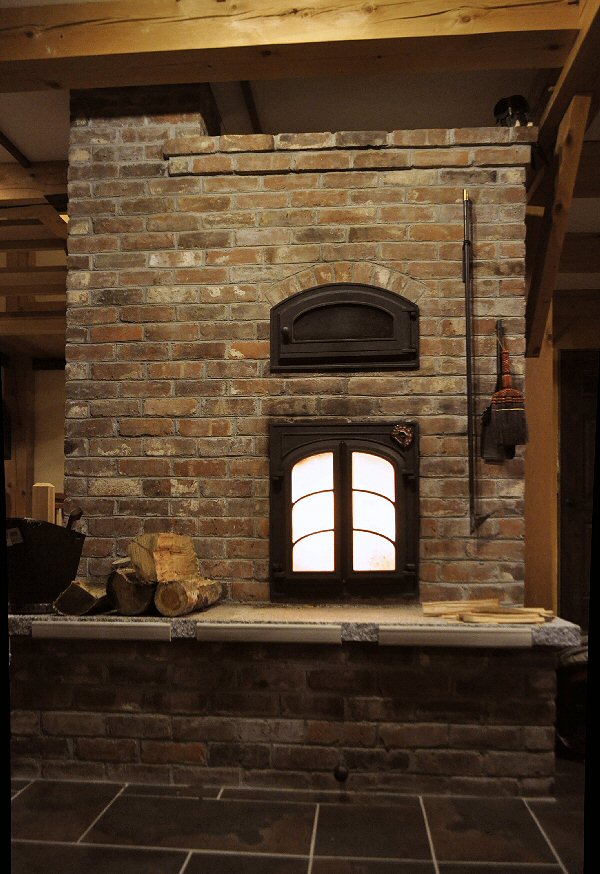 HK22 w oven, heated bench. Langdon, NH. Aug, 2007.
clients' floorplan 1, detail


completed core, showing heated bench rough-in. Mason Doug Phelps on right.
Client Chris Carbone works for Bensonwood Timberframe home company.


Completed heater, plus construction photos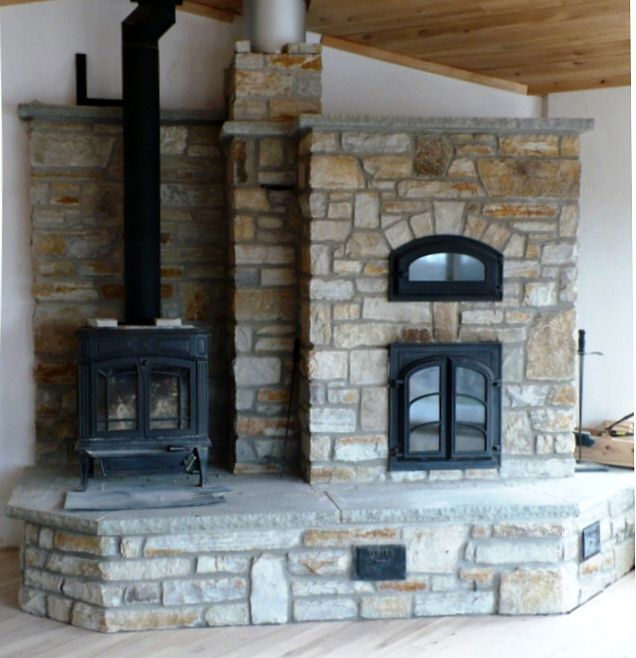 HK 22 w. front oven. Sharbot Lake, ON. September 2005
Footprint, revised footprint 08/15/04


footprint
footprint sketch
revised footprint, May 25/05, June 6/05, June 7/05


installed core with roughed in heated bench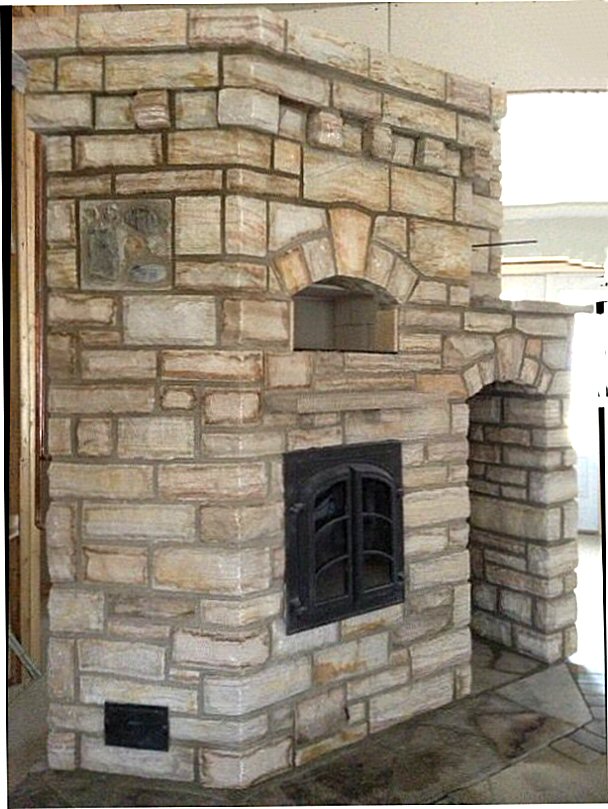 1212

-

EPPS: HK22, oven, heated bench, custom footprint. New strawbale house. Builder/designer: Frank Tettemer.
Delivered and install core, Eganville, ON. May 28 2013. Finish mason: Bill Reiche
foundation plan, footprint, house floor plan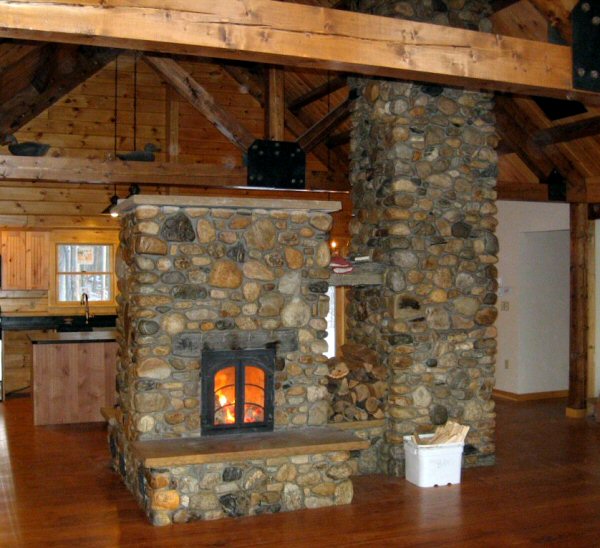 623-ARMS: HK22, rear oven, heated bench. Shipped to MA, Jan 5/07. Mason: Steve Bushway


house progress photo, heater foundation 1, 2, house floorplan


Finished house, Energy Star certificate


Steve Bushway working on core, first course of facing


Finished heater


Client feedback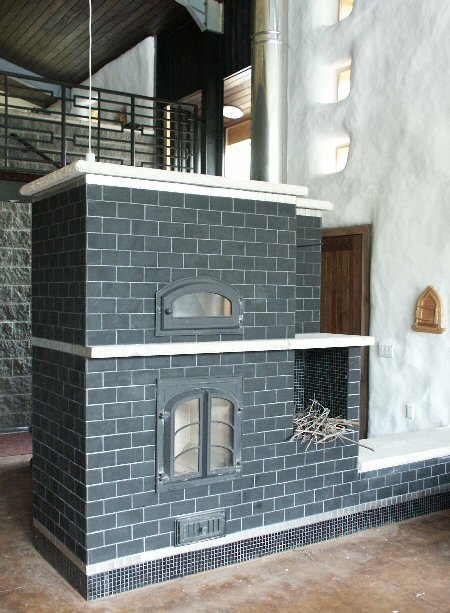 Heat Kit w. bake oven. Custom heated bench. Slab on grade.
Finished with frosted glass tiles (black) and Stainless steel tiles, with top and mantel of Limestone
Large strawbale house/studio - steel frame with strawbale infill.
Architect: Laura Lee Intscher. Vestal, NY. Nov /05


Client's website with house details
proposed footprint and elevation
details for custom heated bench


heated bench detail 1, detail 2, detail 3, detail 4, detail 5,


Completed core, with mason Dale Demary and architect and owner Laura Lee Intscher


View from house entry side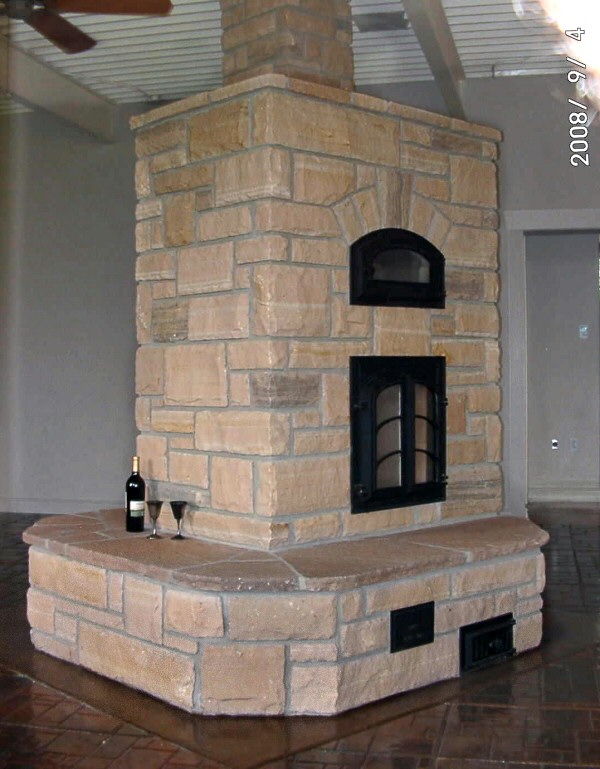 738-SCALE: HK22, bake oven, heated bench, slab on grade. Napanee, ON. Delivered and installed, Dec 15/07
footprint drawing. Finished in Kingston ledgerock (local sandstone).
Client feedback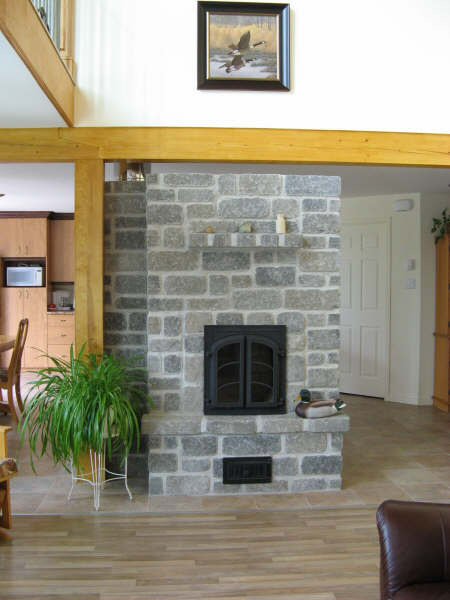 HK22 w. oven. Retrofit into existing house (during a major renovation)
Deliver and install core.
Finish by clients (local mason)
Client's floorplan
preliminary heater footprint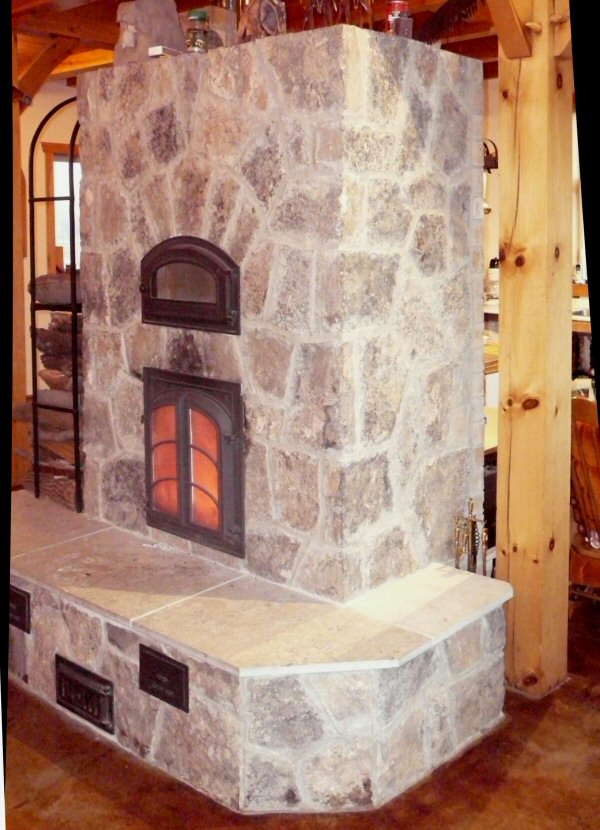 629-ZWAR: HK22, oven, slab on grade. Shipped to Puslinch ON Sep. 21/06
- faced with limestone from the foundation excavation
- heats a low energy 3,000 sq. ft. house, with an annual consumption of 1.5 full cords.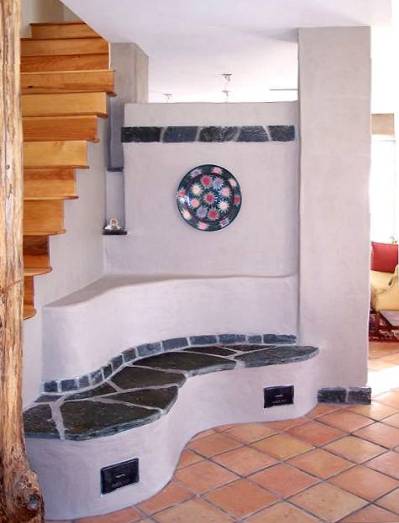 HK-22 with oven and domestic hot water coil.
Strawbale house, Wakefield, Quebec.
Finish mason: Udo Kohrmann.
Building the core
Client's slide show of building the core
Client's slide show of finishing the heater
Client's slide show of just-occupied house


Client feedback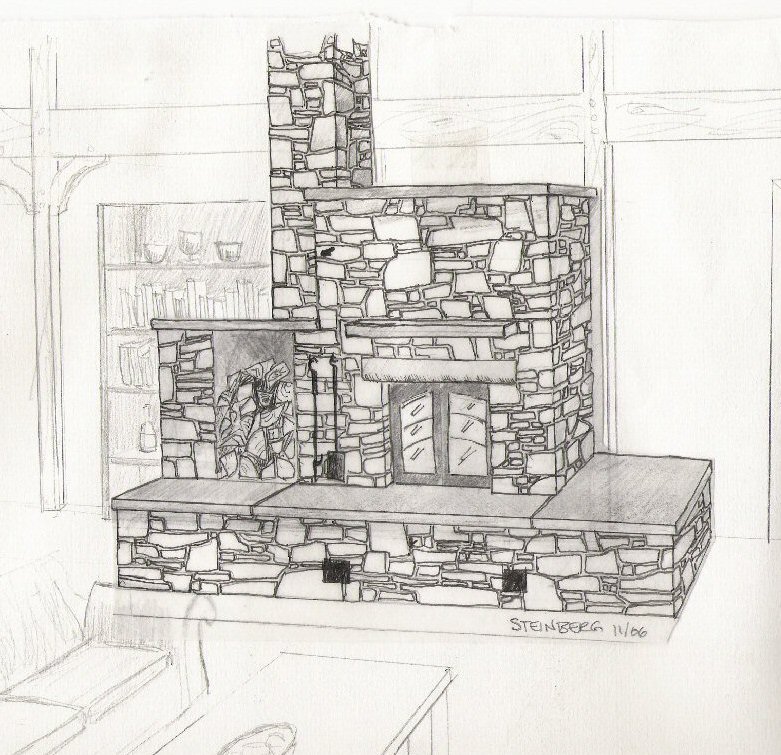 635-STEI:
HK 22. Ship to NJ May/07.
Mason: Amazin' Masons
sketch by heater mason Brian Klipfel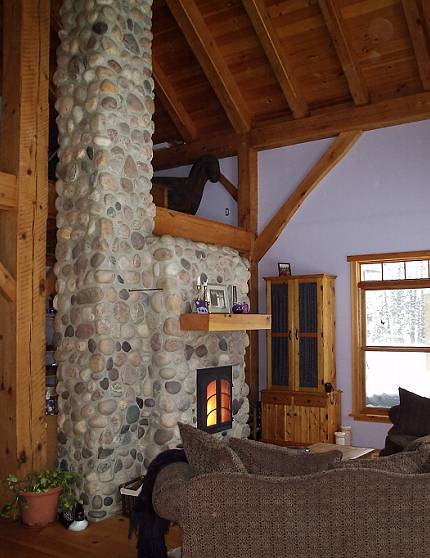 HK-22 with rear oven.
Off-grid timberframe house, Sioux Lookout, ON. Delivered and installed core, July 2001
River rock finish


layout proposal, elevation


installed core


Client feedback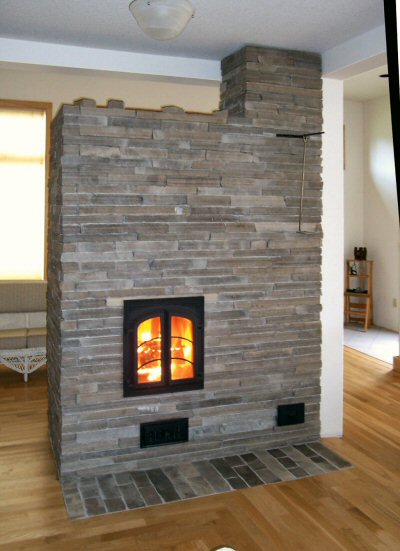 HK 22, domestic hot water coil. Slab on grade. Harrisville, Michigan.
Delivered and installed, October 4/05
Client's floorplan,

photo of location
proposed heater footprint, DHW coil location plan, elevation
final heater footprint (Aug 1/05)


installed core


Client feedback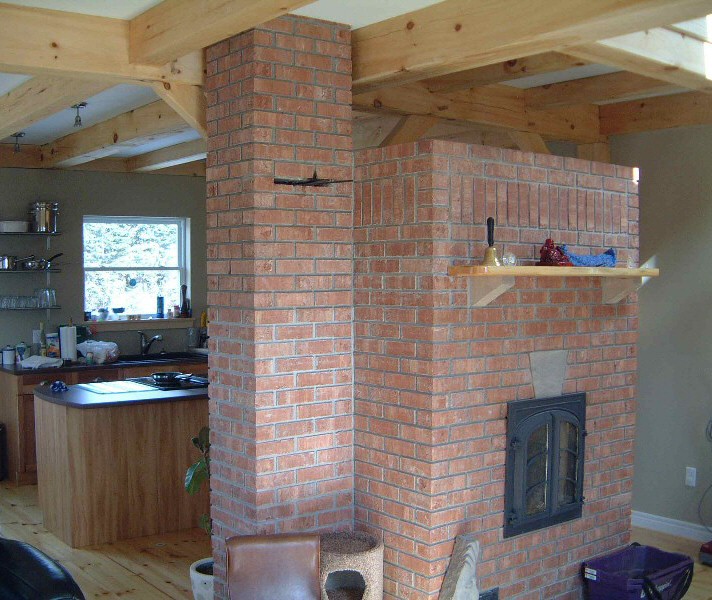 HK 22 w, rear oven.
Builder: Kim Aaboe. Head of Jeddore, Nova Scotia.
preliminary footprint


completed heater. Mason: John Wallace, Chezzetcook, NS


Client feedback


finished house, finished heater front 1, front 2, rear 1, rear 2


Additional client feedback on the bake oven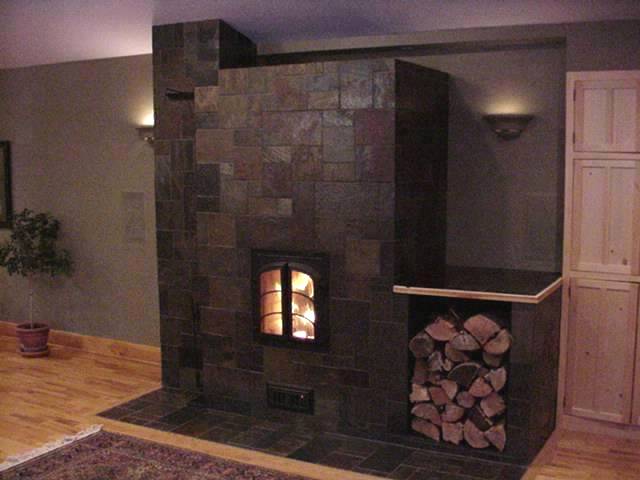 Residence in Ossineke, Michigan. Slate tile finish.
Slab on grade, hot water coil. May/04
Concept
proposed footprint.
Completed core
Construction progress photo, June 10/04


Client feedback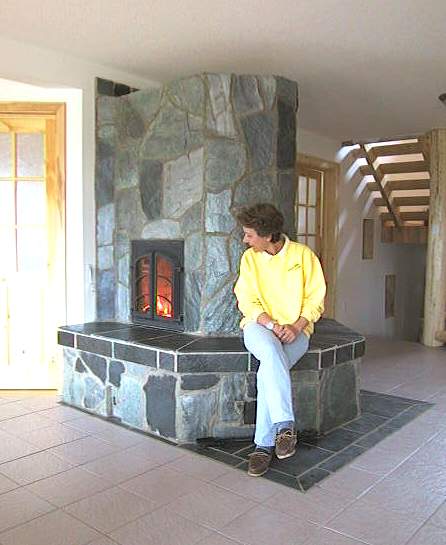 Corner masonry heater with bakeoven, domestic hot water, heated benches. Eco-tourism lodge, Alberta.
preliminary footprint, footprint 2, footprint 3, footprint 4, final footprint
Heater with rear bakeoven, heated bench, and wood storage.
Columbia, Kentucky.
Completed in 2005.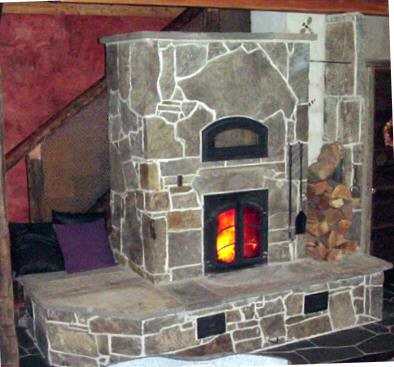 Sustainable housing co-op, Ithaca, NY. Installed core.


Project details


Dry layout of heated bench


Ithaca Ecovillage


Construction photos of house


Photo gallery of finished house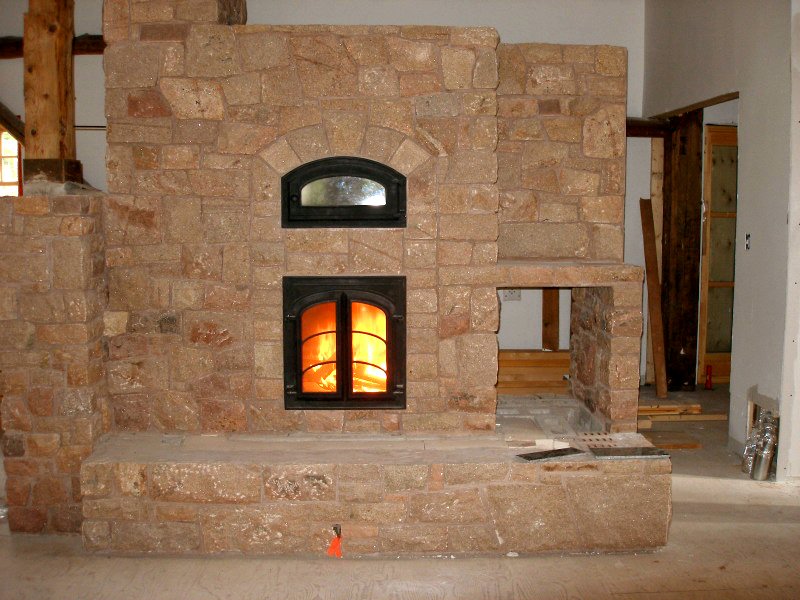 Q37-FITZ: Consult on heater layout and design, new house, Cape Breton, Nova Scotia. Vincent den Hartog, architect.
Shipped May 9/06
Architect's floor plan, revised floorpan
preliminary heater footprint, revised footprint1, revised footprint2
revised footprint, May 18/05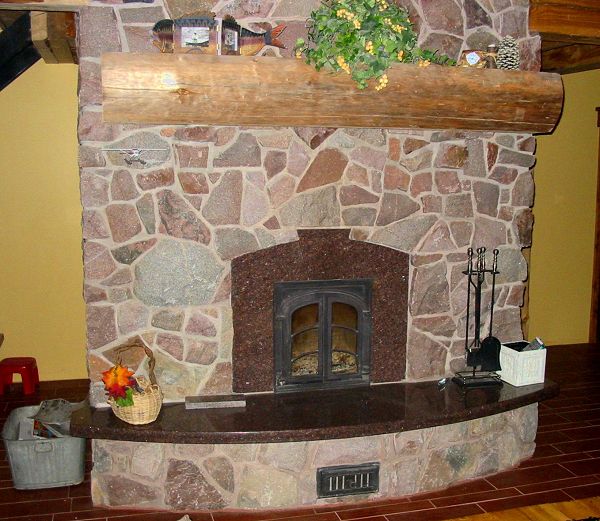 Summer home, North Bay, Ontario. Local fieldstone with polished granite bench top and door surround.
Masons: Mel McCulloch and John Tenhave.
Shipped Nov 7/02
elevation, client elevation sketch
photo 2


Client feedback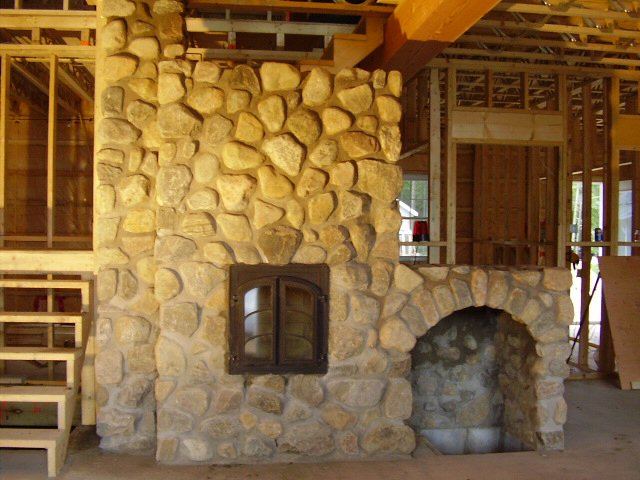 Heater with local fieldrock face. July 2006.
Vendée Quebec.
Mason: Jean-David Morneau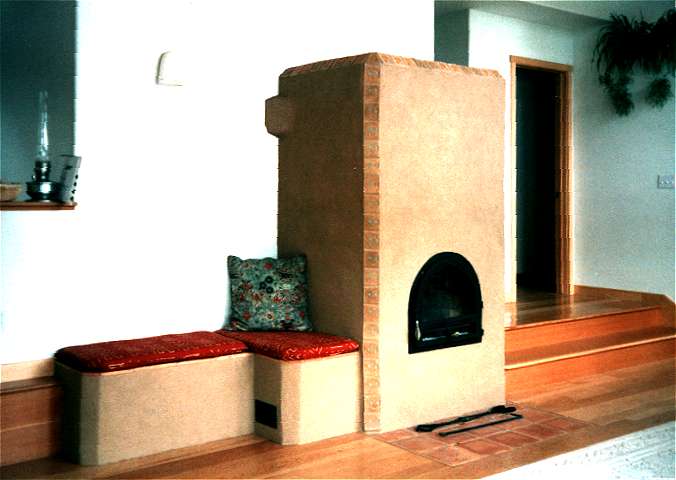 HK-18 heater core with rear bakeoven, Colorado (Four Corners area)
Photo of finished heater and client feedback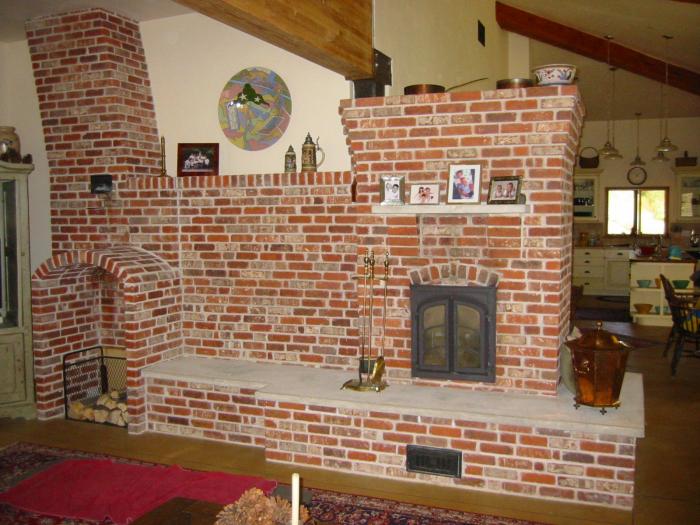 C-KIMM: 2 HK-22 cores,one oven, heated bench, water coil, seismic specs, Idaho.
5000 sq. ft. strawbale house. Supply components and consult on structural design.
Section
Foundation reinforcing plan
Cantilevered slab and first floor heated bench layout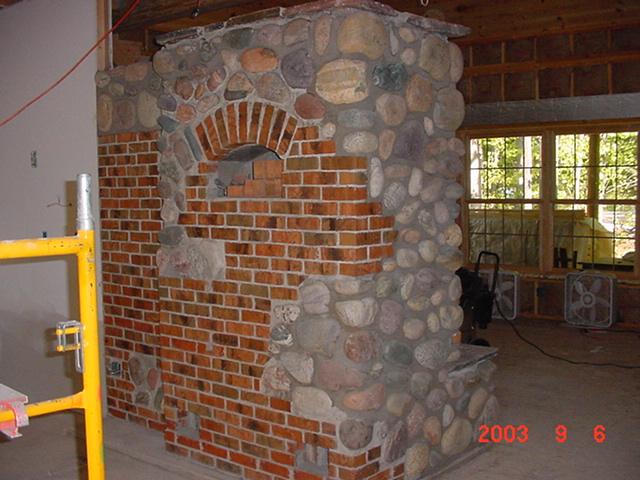 C-FAIR: HK22 with rear oven, hot water coil, front heated bench. Indian River, Michigan. Delivered and installed, June 26/03. Finish mason: Bob Goode.
Foundation plan
Completed core with dry heated bench layout.
Client photo: front


Client feedback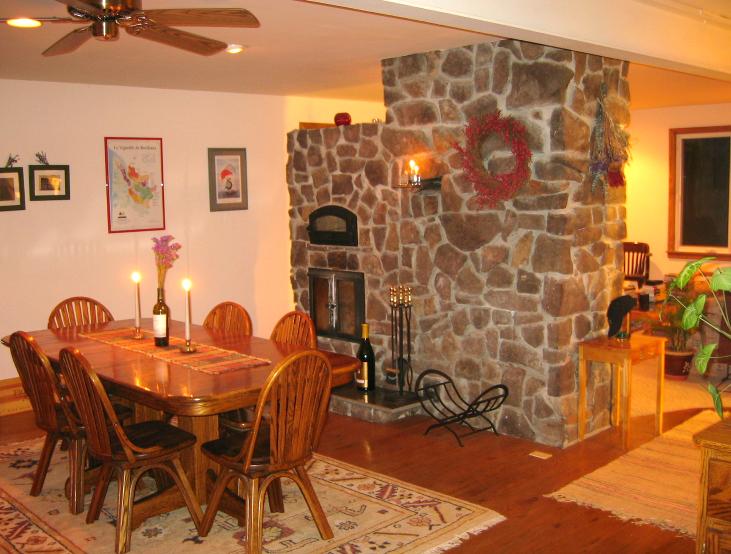 Heater built with the help of Gene Hedin


Client feedback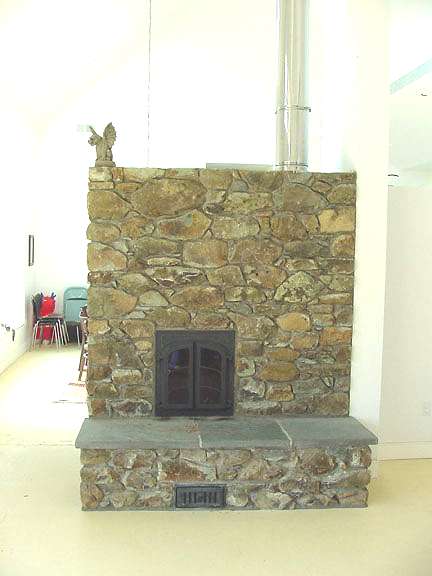 2 stacked heaters. View of top heater with bakeoven, Alexandria VA.

HK-22 core w. oven. Remote chimney w. bypass, heated bench and wood storage.
Heater dimensions, layout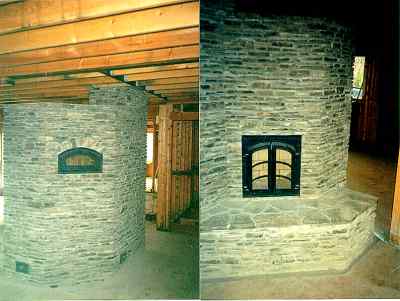 HK-22 corner unit with oven and heated bench.Western New York state.
Stonework by client.
Client's preliminary layout sketch
Foundation plan, revised plan
Dimensioned heater footprint
Assembled masonry heater core, before heated bench rough-in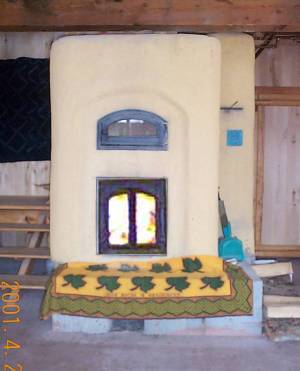 HK-22 w. bakeoven and domestic hot water, Canton, NY. Core built by Dan Pike.
Client applied sculpted raw clay facing.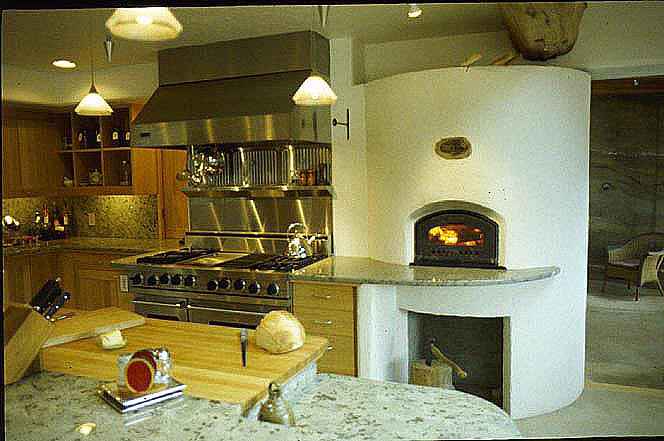 Design consulting and manufacturing of components. Custom system for 5000 sq. ft. rammed earth house, British Columbia. Heater firebox is used to fire large kitchen bakeoven. Bakeoven and fireplace can operate separately.
Details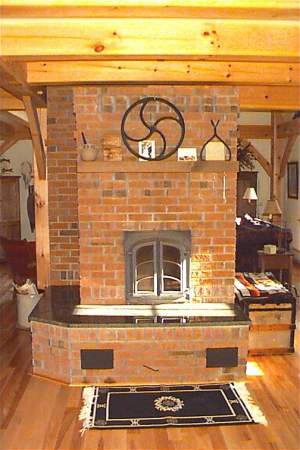 C-MAST: HK 22 w. heated bench. Plattsburgh, NY. Mason: Dan Pike.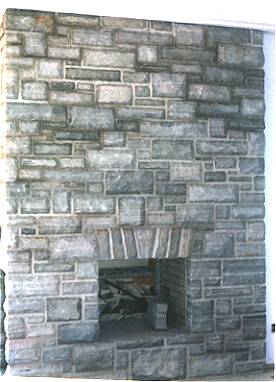 Design work, custom components for see-through high efficiency masonry fireplace (shown before installation of glass doors). Components for Rosin fireplace. Built by mason Colin Coveny, Carleton Place, ON
preliminary schematic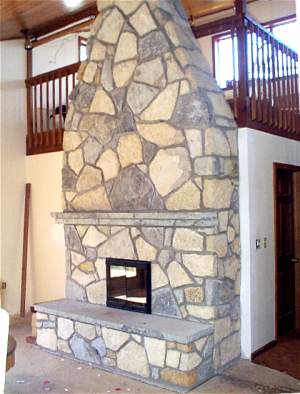 2 stacked HK-22 cores, one with oven, Ohio.


Client feedback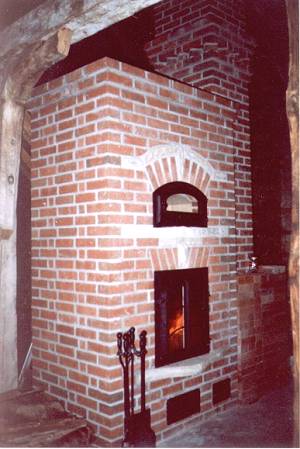 C-CROS: HK-22 w. oven, slab on grade, Lac Megantic PQ.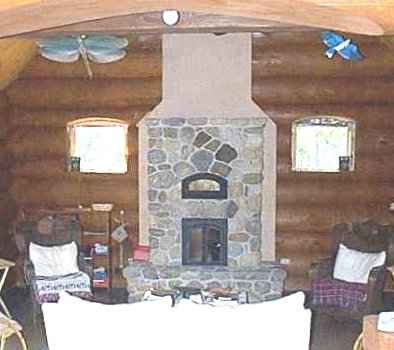 HK-22 core components with bakeoven, heated bench, Val-des-Monts, Quebec. Installed by mason Jim Mahon, Low, PQ.
Client's sketch
Elevation, plan, perspective


Client feedback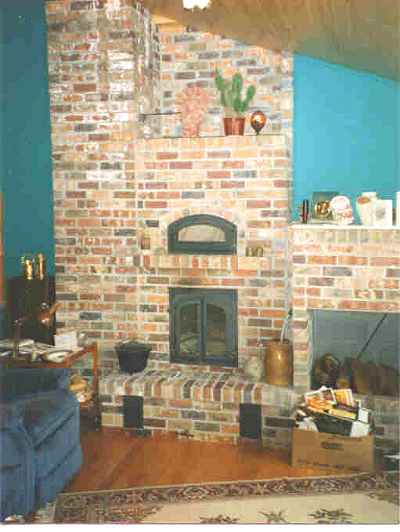 HK-22, core kit shipped to British Columbia. Domestic hot water coil, bakeoven, heated bench.
Heated bench detail


Client feedback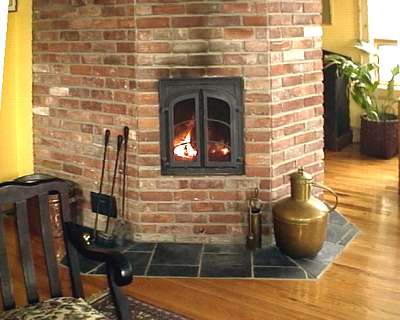 HK-22, installed corner core with bakeoven. Campbellford, Ontario.
preliminary layout
finished heater 1, finished heater 2
---
This page was last updated on April 20, 2017
This page was created on June 10, 2000
Back to: