Heat-Kit

Bakeoven Page

Gallery

Links

Current Projects
Recent Projects at
Masonry Stove Builders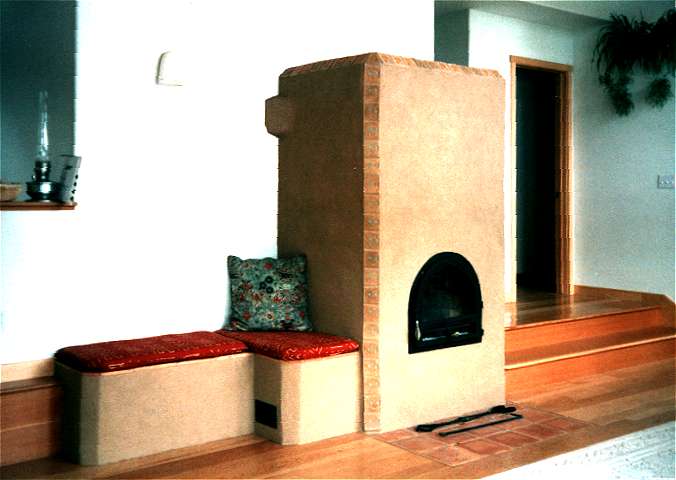 This is an 18" Heat-Kit core with a bakeoven in the rear and a heated bench. It is located in the Four Corners area of Colorado, in a beautiful valley at 7,000 feet altitude. It was finished in stucco and tile by a local mason.
Here's a nice letter we recently received from our client:
March 15, 1997
Dear Norbert,
Winter is almost over - our first winter in this house and with the help of your masonry heater, it has been an incredibly comfortable one despite above average snows. Enclosed is a picture of it in action. We are still in the process of figuring out a final coating for the stucco part - something that will be a different and warmer color and also something that will expand and contract with the heat changes - but that is purely an aesthetic detail. The heater itself is terrific.
On sunny days even in the dead of winter we do not have to use it at all as just with windows (I enclose a picture)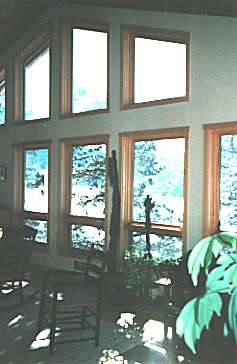 the place heats up to 70 degrees Fahrenheit. On cloudy days we charge up the heater. Two or three charges keeps the place really comfortable for a good 24 hours. And it is using wood that has low BTU ratings which is all that is available around here. We love to watch the fire. We sit with our backs next to the heater on the bench and read books. We dry clothes hung on hangers hooked on the damper handles. At Thanksgiving we kept stuff warm in the bake oven. We have used it to bake bread. It is althogether the most useful form of heat either of us has ever used far surpassing a woodstove both in form and function.
If you are ever down this way - or just want to visit, please come down and stay with us. We would love to have you and your wife as visitors and this time offer you better accomodations than a tent!
Hope your winter has been a good one.
Sincerely..............................................Dan and Susan
---
Dear Norbert:
I am enclosing pictures of the masonry unit as it finally looks. It took us quite a time to locate a stucco product that the manufacturers said could be used in such an application but finally we did. The outfit is:
Stuccoflex International
17639 NE 67th Ct.
Redmond, WA 98052-4957
1-800-305-1045
We then spent ages trying to find a color. Keith, at Stuccoflex, was the soul of patience dealing with rock being sent his way and then providing us with squares of samples to match what we hoped would be right. This took months and finally we got it right. Really, the man is a saint. It turned out wonderfully. The pictures cannot do it justice. I highly recommend this outfit. Thoro Products would not recommend their product for use on a masonry heater. The Stuccoflex stuff has done very well withstanding the high heat even around the door with no cracking or sagging or scorching.
So please pass the word on to others who have this kind of heater and may wish to finish it off with stucco.
Daniel sends his regards. Please come visit if you are ever in the area. The accomodations are now much better than a tent!
Best ....... Susan

---
Back to: