Heat-Kit
Gallery
Bakeoven Page
Library
MHA News
Current
Projects

Mall
Links
Bookstore
Historical Oven: Waterdown, Ontario
This oven was unearthed recently in a building in Waterdown, Ontario (near Burlington), in a building slated for demolition.

We hope to get more details from the local historical society, and are attempting to get the oven documented when it is torn down later this year. Check this page for more details.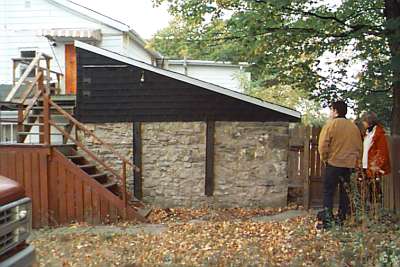 Outside of oven, rear. 2 vertical steel I-beams with threaded rods are
used to provide support for oven vault.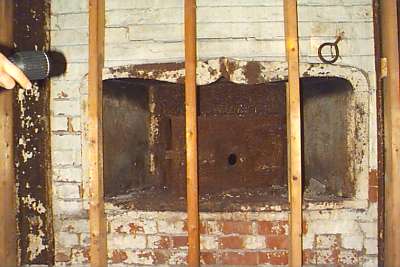 View of main loading door, partly open. An exhaust hood is immediately
in front of the door. A damper handle is visible at the top right.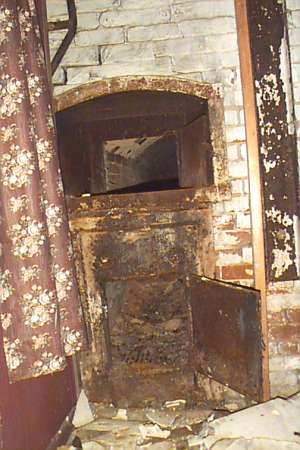 Fuel loading doors on the left side of the oven. The left sidewall and
part of the vault are visible through the upper door. There is a grate immediately
in front of the upper door. The lower door reveals a firebox and a grate. There is
a shaker grate above the lower door. The oven was fired with coal, and it appears
that there were two or three different locations for fuel placement.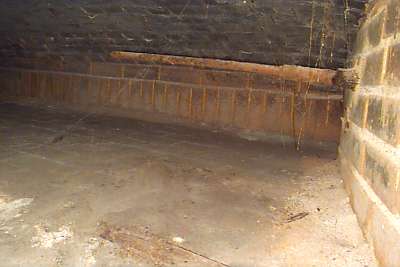 Inside vault, view to the right through the loading door. The hearth area is
approximately 10 feet square, and the vault is pillow shaped.
The pipe sticking into the chamber houses a temperature probe.
We hope to obtain some brick and mortar samples when the oven is demolished.
The bricks are light red, and were almost certainly manufactured locally,
since this is a good brickmaking area.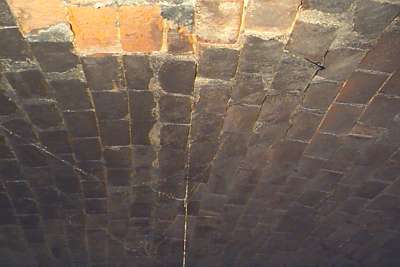 View of the vault.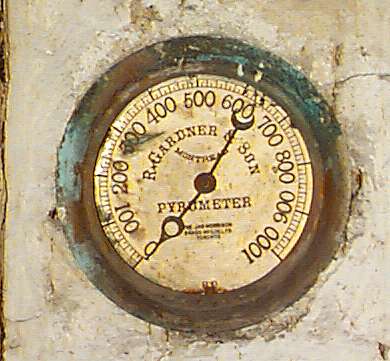 Pyrometer to the right of the loading door. Temperature probe is shown from
the other side in photo above. There is a sliding damper handle on the far right side
of the oven, and the chimney is on the right (see next photo).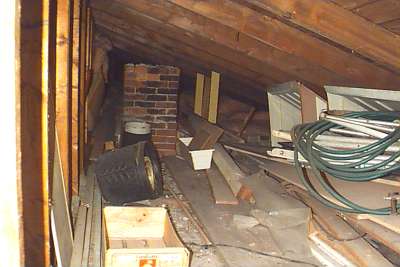 Same view as photo at the top of this page, showing chimney on right side of oven (as
viewed from the front).
---
Heat-Kit
Gallery
Bakeoven Page
Library
MHA News
Current
Projects

Mall
Links
Bookstore
This page last updated on October 7, 1998