Heat-Kit Assembly Details

Even More Assembly Details


Back to Heat-Kit Assembly Manuals Page

General Assembly


Bake Oven


Domestic Hot Water


Heated Benches


Tuning a Heated Bench


Finishing Details


Other

General Assembly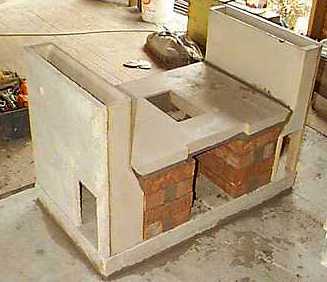 Completed bottom end. Each bottom channel has a cutout for a heated bench connection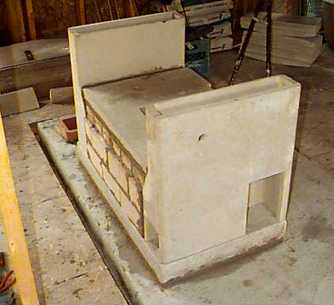 View of rear. Cutout for cleanout opening is visible at centre bottom of photo,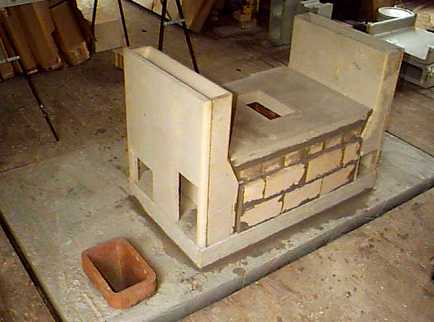 Rear from chimney side. Cutout for chimney connection is visible. A 6.5" wide firebrick duct connects the two bottom channels. The flare in the bottom channels creates a manifold that equalizes the pressure between the two sides, allowing a side chimney connection without unbalancing the flows.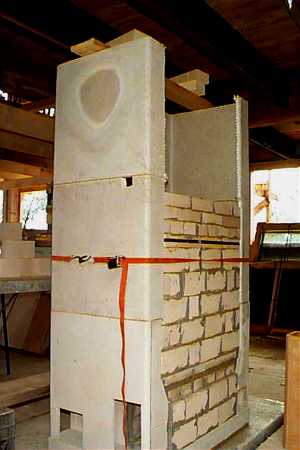 Upper channels installed. Middle channels are secured with a web clamp. A weighted board stabilizes the upper channels. The channel lips act as plumb lines for the firebricks.
A 2" X 2" cutout ("gas slot") in the middle channel will form a direct bypass connection with the chimney, allowing easier cold starts.
Bake Oven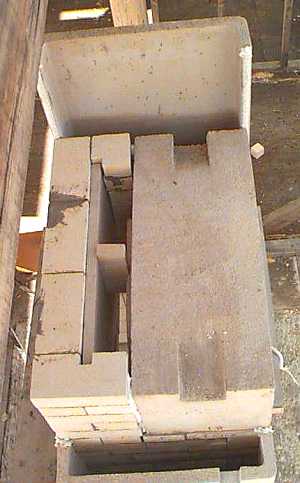 View of installed oven from top. Throat is formed by oven and back wall. Back wall is lined with 1" refractory insulating board to increase heat transfer into oven back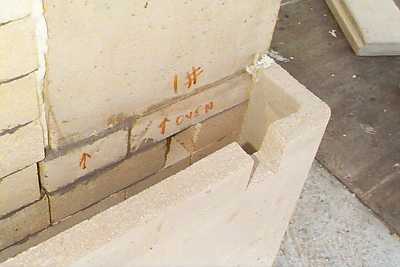 Detail of oven floor bypass (underneath word "oven"), and gas slot cut into outer channel.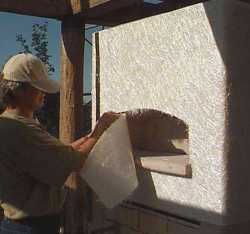 Trimming the fiberglass slip joint material around the oven. The fiberlass mat is somewhat fragile, so either scissors or a utility knife with a fresh blade is used.
Domestic Hot Water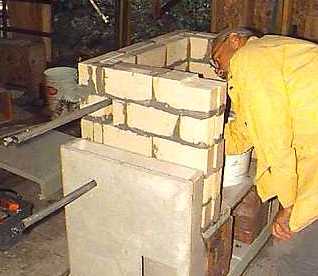 Bottom channel is pre-drilled to accept stainless water loop, which sits directly in the hottest portion of the firebox.
The slot through the firebricks is patched with castable refractory patching compound, supplied with the kit.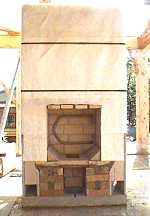 View of the coil in the firebox.
Also visible at the top of the firebox are the firebrick heat shields that protect the steel firebox and door lintels.
Heated Benches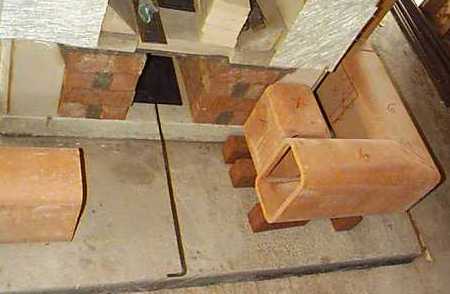 Layout for heated bench that wraps around the front to the right side chimney. Middle flue liner not shown. An extra-length handle on the outside air damper (center) passes underneath the 8" X 12" clay flue liners.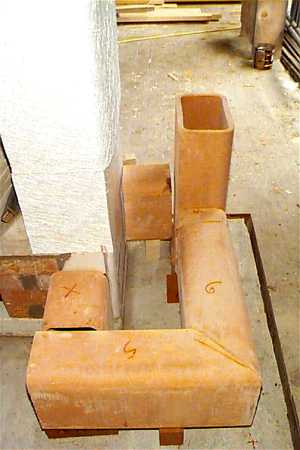 Detail of chimney connection. Flue liner marked "X" is the inlet from the right channel to the bench. This bench has square corners. Flue liners are cut with a diamond blade in a 15 amp 7" Makita grinder with a 9" cutoff kit. An abrasive blade in a skill saw will also work.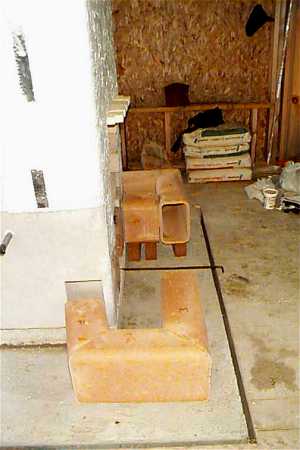 Detail of left channel connection. Connection is angled to clear stone chase for hot water thermosyphon loop to upstairs tank.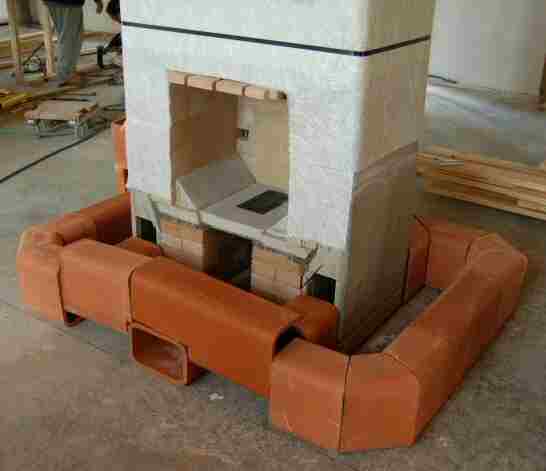 Wraparound heated bench layout.
Note ash cleanout in front, needed for slab-on-grade foundation.
For more details on how to do a chamfered corner, see:
How to do a chamfered corner (http://mha-net.org/msb/docs/chamfered%20corner.htm)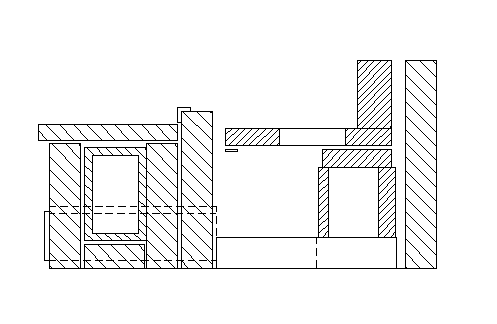 Bench detail. Section through front bench and firebox. Bench is shown with a 2" stone top with a 1 1/2" lip.
In this drawing, the heater is on a slab on grade, so there is an ashbox below the firebox. A section of 8 X 12 flue connects the ashbox to the ashbox door on the outside of the bench. The 8X12 bench liner needs to be notched 4" to clear the 8 X 8 ashbox connection. The insulated base pad is notched out in the ashbox area to lower the ashbox floor 4".
Below is a front section: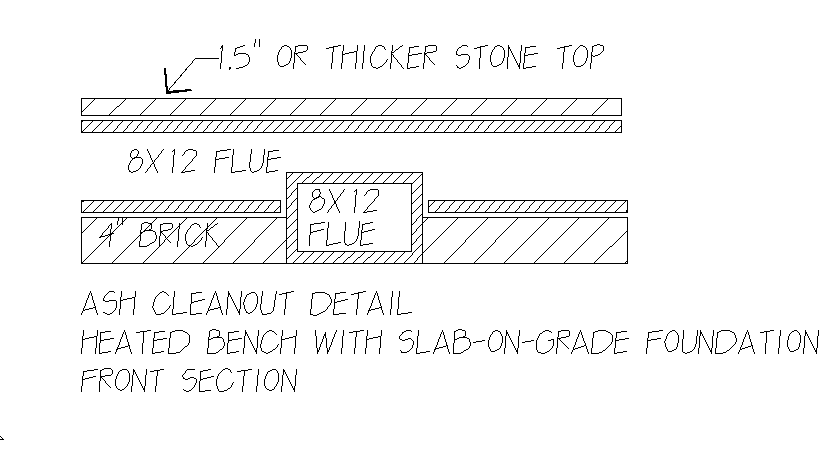 Tuning a Heated Bench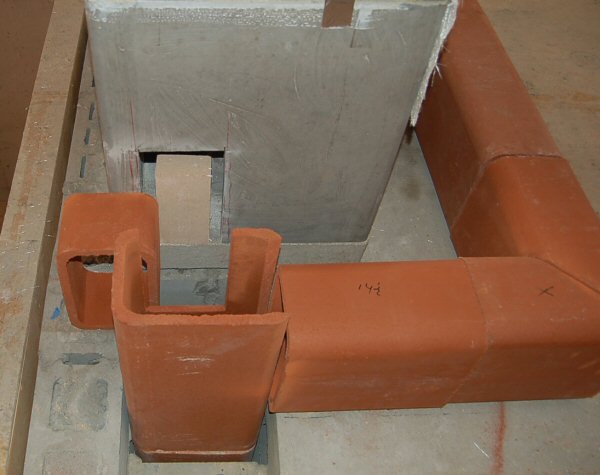 A dry firebrick is set at the normal exit as shown. This forces more gases through the bench, while
maintaining adequate leakage for startup. The firebrick can be adjusted or removed through the
adjacent cleanout door. In this example, the chimney liners go to a cleanout in the basement.
Heated Benches Q&A:
Q: How do you price heated benches?
A: The cost of a heated bench is really the masonry work involved in building the bench, and the bench top, which can vary quite a bit depending on materials (cut stone), and complexity (angled corners). Functionally, it is very similar to a piece of chimney lying on its side.
In pricing a bench, I would evaluate the cost of materials and labour. An extremely complicated bench (wraparound, angled corners, trimming and facing the stone top), would probably take an experienced heater mason and a skilled helper about a day to build - if it's your first time you could probably double that.
Quite often we will "rough in" a bench for a client when we install a core that someone else will finish. This consists of laying it out, cutting the extra openings in the bottom channels and chimney flue, and making all the cuts in the liners and the short connecting pieces of liner to the bottom channels. There is usually a cleanout or two, and if you need access to an ashbox for a slab-on-grade heater, it adds a little complication. I use a 7" Makita grinder with a 9" cutoff conversion from Makita and a 9" dry diamond blade. It usually takes me a couple of hours or so. If it is your first time, it could take considerably longer. Here is an URL with some bench photos:
http://mha-net.org/msb/html/assy-hkd.htm
Q:Is refractory mortar used between liners? What else do I need to know?
A: For heated benches, I use ordinary mortar between the liners. This is because it is hard to cut liners closer than about 1/4", sometimes 1/2". They often tend to be warped and out of square a bit, making them hard to mark very accurately. There is not much heat stress at the tail end of a contraflow heater, so using regular mortar is no problem. I also use ordinary mortar around any liner connections, and slush in mortar in those areas as well.
The mason then simply builds the bench as if it were a horizontal chimney, except for the benchtop. I tell them to slush all the connections solid with mortar. The benchtop is usually 2" stone, and it is mortared directly onto the flue liner. For long pieces of stone, you could create a slipjoint by laying a piece of fiberglass mat on the liner first.
The benchtop can get fairly hot and the joints between the benchtop stones have a tendency to hairline. Here is what I do: use a 1/4" joint, leave it open. Pump the joint full of type 1 silicone. Immediately, dust dry "mortar mix" powder onto the silicone and press it in slightly. This gives the appearance of a cement joint, but it is permanently flexible.
Q:What is Type I silicone?
A: Type 1 silicone is the ordinary kind that smells like vinegar, as opposed to the paintable Type 2 that doesn't have a vinegar smell. "GE" is the best brand, and we have tested it to 600 F. It is available at Home Depot and Walmart. I believe it is labelled as "household caulk" or something like that - it comes in a blue tube. Use the "clear".
Q:What do you recommend installing around the top and sides of the clay liner? In my case there is an air space of about 4-5 inches between the liner and the facing of the bench.
A: Normally there is about 1" or less of space. You can slush it solid with mortar to the front. Don't slush solid in behind.
Q:Can I fill the space with sand?
A: Definitely don't use sand. Slight movements will cause it to settle and create a wedge, which can crack the bench.
Q:There is only a small space between the top of the liner and the bench cover - what do I do here?
A: Our bench tops are usually 2" stone. These are mortared directly to the top of the flue liner. You can lay a strip of leftover fiberglass wrap on top of the liner, creating a slip joint. Usually there will be some hairline cracking in the joints between the stones if mortar is used for grouting. See the above note regarding silicone joints. We have had 100% success with this method.
Finishing Details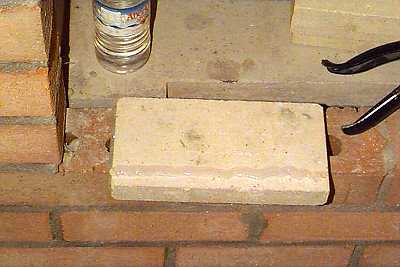 Firebrick "splits" are glued to the door jamb with G.E. high temp silicone joint at front edge.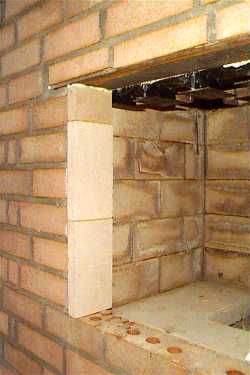 Installed door jamb. Note expansion joint at top joint with steel lintel. Gap is stuffed with white ceramic fiber.
Other
Rear Exit Chimney Connection: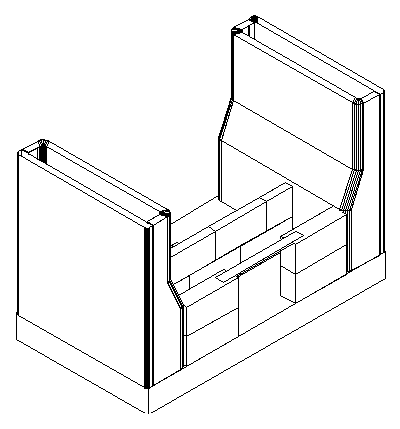 Detail for rear chimney connection: firebricks are notched and 1/4" x 1.5" x 14" steel bar (supplied) is used to bridge opening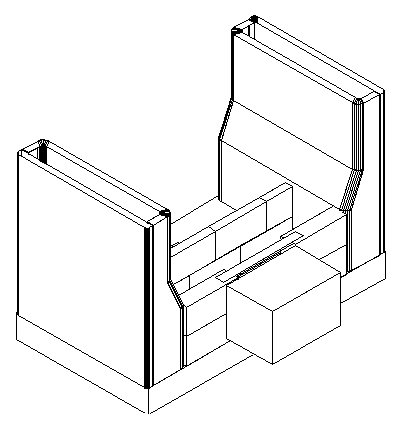 8x12 flue liner is set dry against opening when the heater facing is installed. Joint is sealed with common mortar.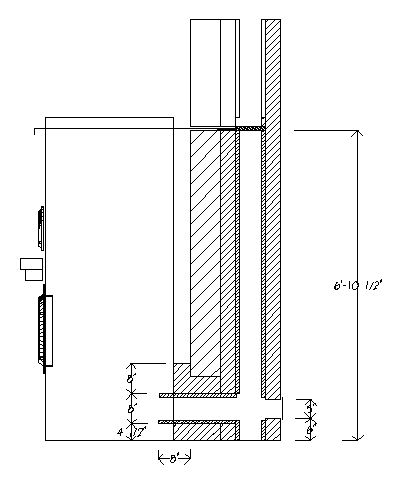 Detail of a rear chimney connection with damper handle extended to allow operation from the front.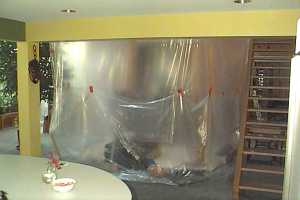 Dust protection for a retrofit installation.
A plastic room is built around work area. The work area is connected to an exhaust fan sitting in an outside window, providing negative pressure and preventing the escape of fine dust into the house.
The clients were living in the house during the construction, and remarked that they had expected more dust.



Even More Assembly Details


Back to Heat-Kit Assembly Manuals Page