Heat-Kit
Gallery
Brick Oven
Page

Bookstore
Library
Masonry
Heater
Mall
Current
Projects
Contact
Search
Links
FAQ
Strawbale Workshop
with Linda Chapman
and Michel Bergeron
Camp Au Grand Bois, Ladysmith, Québec
May 15 - 18, 1998
Photo report by Norbert Senf
Friday, May 15: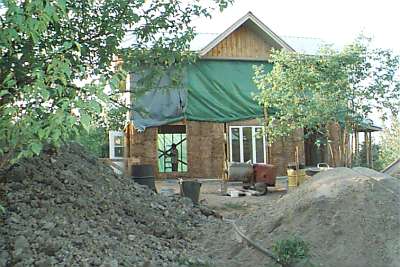 View of the building site - a multi-use building for the camp. In the foreground is a pile
of blue leda clay on the left and mason's sand on the right.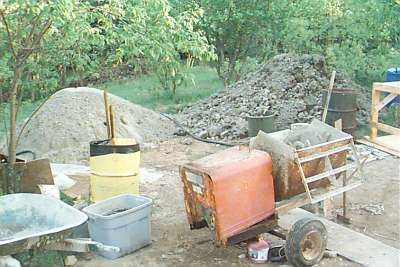 Screw-type mortar mixer, very good for breaking down clay.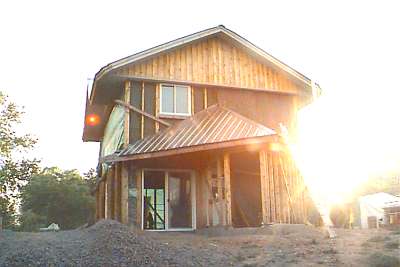 East elevation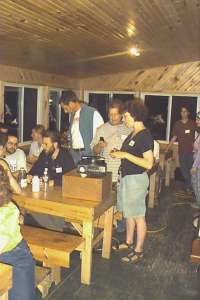 Linda Chapman and Michel Bergeron setting up their slide shows
for the first evening's introductory session. The workshop is filled, with about 30 people
from a diverse range of backgrounds. Everyone has just enjoyed a delicious vegetarian
meal and is getting acquainted.
Saturday, May 16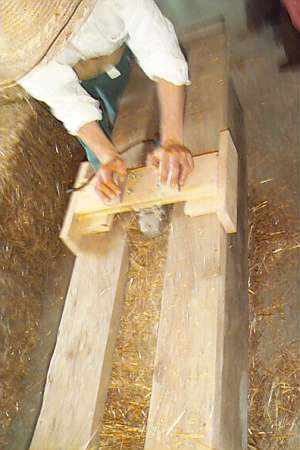 Workshop organizer Gabe Prost demonstrates his bale routing setup.
A Makita 4" grinder with a wood shaping wheel (chainsaw teeth) is mounted
to the wooden sled and runner system, which is hinged at one end.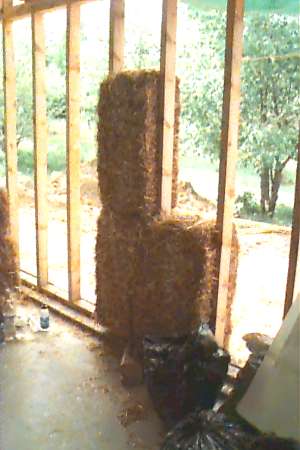 Bales are stacked vertically. Routed grooves key into the
2x4's and avoid thermal bridging.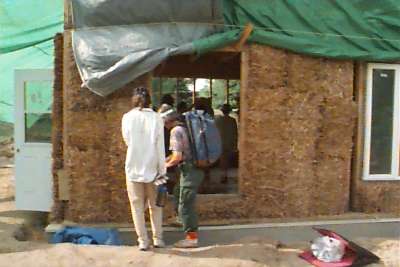 Wall ready for plaster.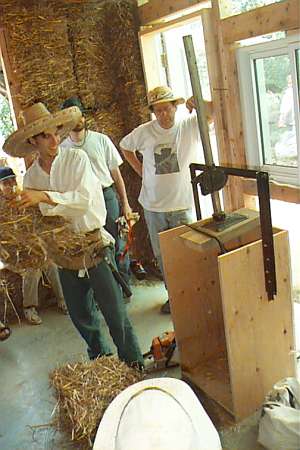 Gabe demonstrates his custom-length bale maker
as Michel Bergeron looks on. Compared to a lever, the
jack works very well for short bales.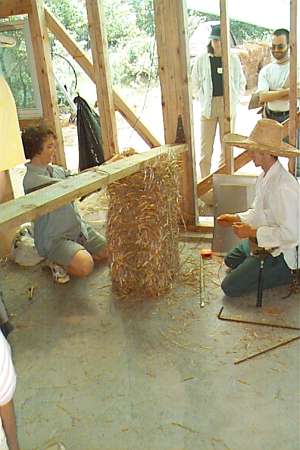 Linda Chapman and Gabe Prost demonstrate the press for
retying bales to custom lengths. The 2x8 lever is hinged at the wall.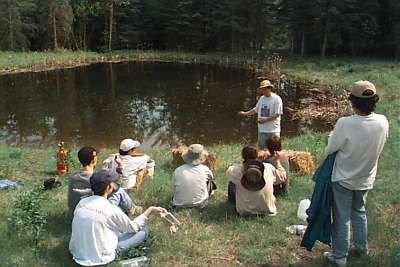 Michel Bergeron lectures on the properties of strawbales. An experienced
strawhead can tell the condition of bales by smell, appearance, and touch.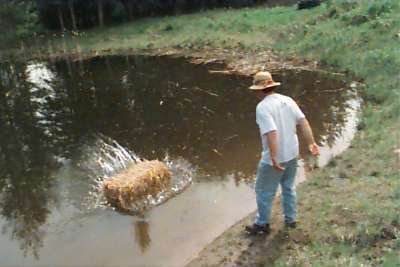 Michel demonstrates his bale moisture testing technique. The bale will be
soaked overnight, and before and after weights compared. The wet bale's
characteristics (smell, etc.) will be observed over time.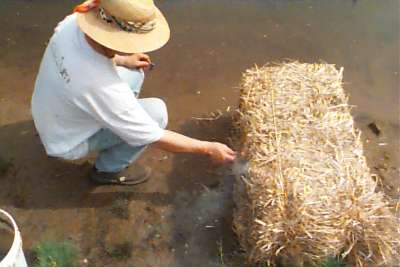 Michel performs a fire test on a dry bale. Compressed bales don't burn!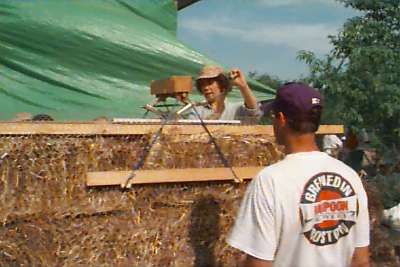 Linda Chapman demonstrates her prestressing system. A scissor jack
compresses the wall downwards, as a bar with hooks tensions the chicken
wire lath. The prototype tool she is demonstrating has been replaced by a
much faster pneumatic rubber bladder setup that works on 4 psi of compressed air.
Once it is plastered, the wall system becomes a thick, flexible stressed skin panel.
Structurally, this is the same as a box beam, which has a high strength-to-weight ratio.
CMHC - sponsored testing on this wall system has shown it to be many times
stronger than conventional construction. A test section was able to resist horizontal
loadings equivalent to 7 times hurricane force winds. More info.
Note: the above setup was a demo only, and not used on this house.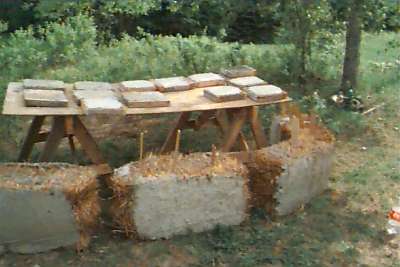 Plaster tests.
Sunday, May 17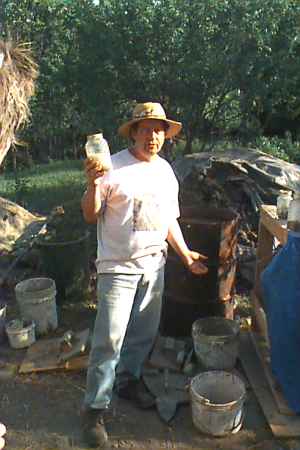 Michel describes the jar settling test for clay.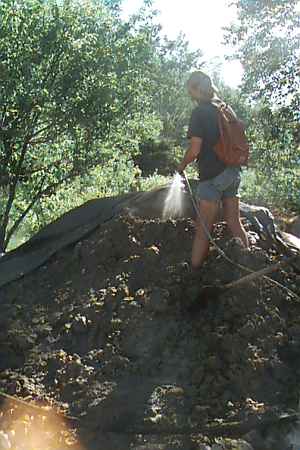 Wetting down the clay pile. Dried out lumps of clay will not
break down in the mixer.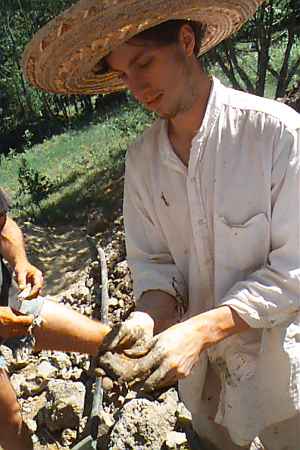 Gabe gets in touch with his clay.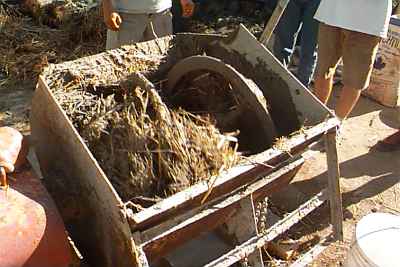 Mixing cob for patching. Straw is added to a clay slurry.

Michel tries out the cob mix for patching.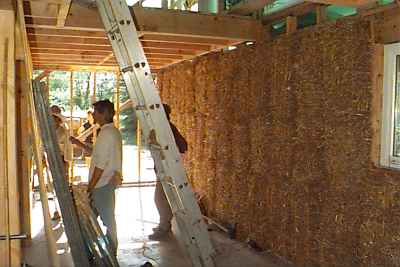 Interior wall.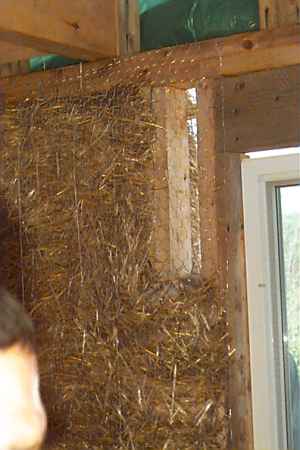 Rounded window detail. A basket is formed with chicken wire
lath and is filled with loose straw from outside.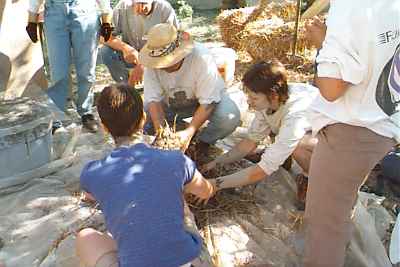 Mixing cob by hand.

Cobbing the south wall.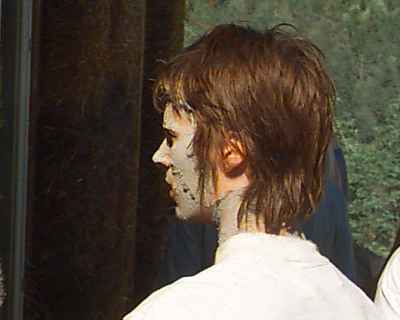 Clayhead.

Looking south from the second floor.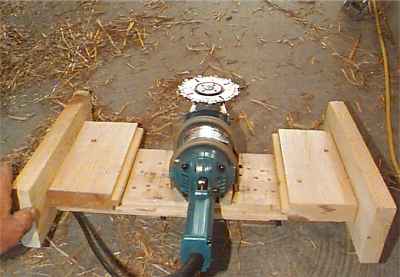 Close up of straw router.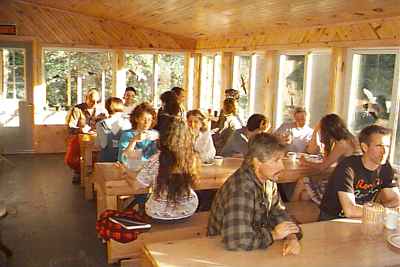 Relaxing after yet another gourmet vegetarian meal. Life is tough!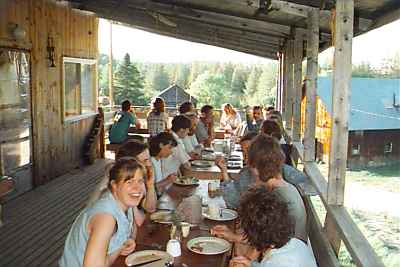 The deck contingent.
Monday, May 18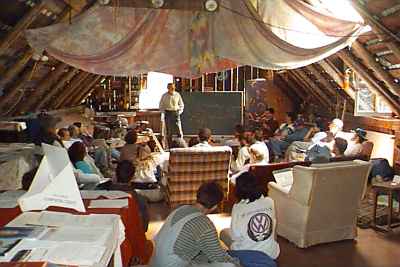 Morning seminars at the rec centre.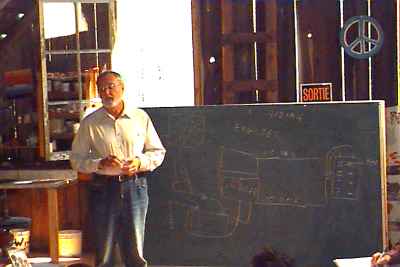 Solar living consultant Peter Kern discusses off-grid power systems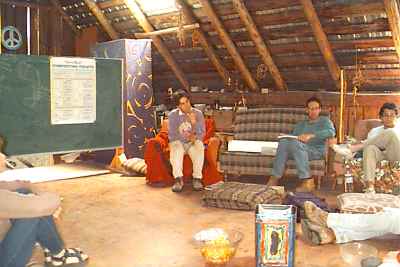 Gabe Prost leads a seminar on composting toilets.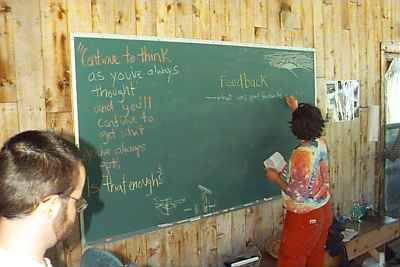 Workshop feedback was an important item.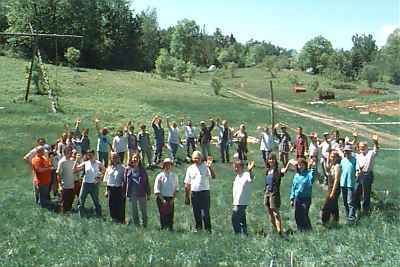 Closing circle.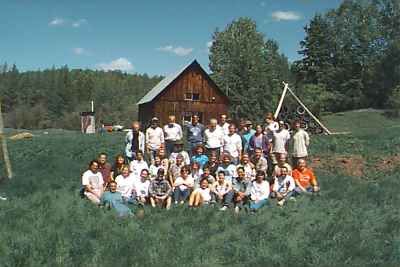 Group photo.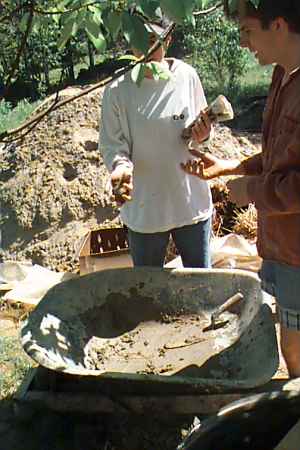 Some attendees had to leave early. Those who stayed, got to play
with mud. Shown above is the "ball in hand" test for determining
water ratio.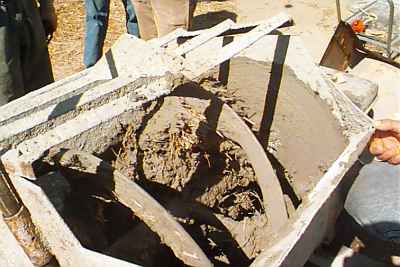 Chopped straw - reinforced plaster for the first coat. Plaster is approximately
1 part Ottawa Valley blue leda clay, 5 parts sand, 5% hydrated lime.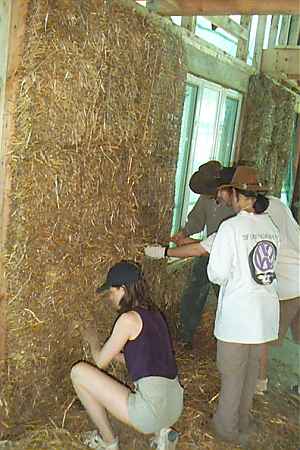 Filling gaps with loose straw.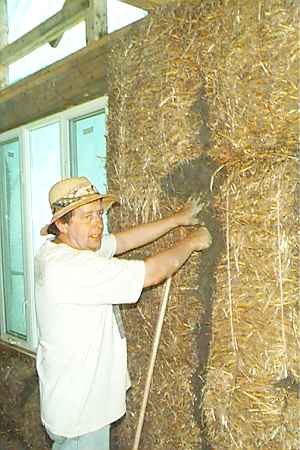 Michel checks out yesterday's cob mix for filling gaps.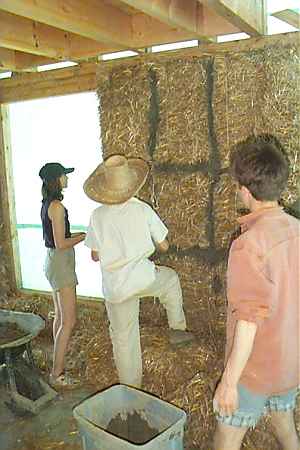 Cobbing.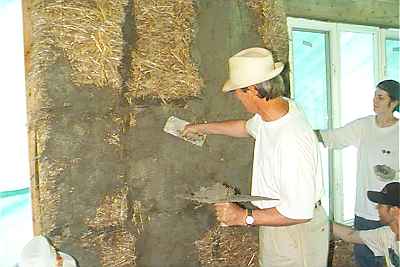 Yours truly tries his hand at chopped straw plaster.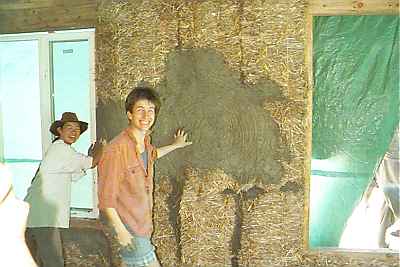 Mud art.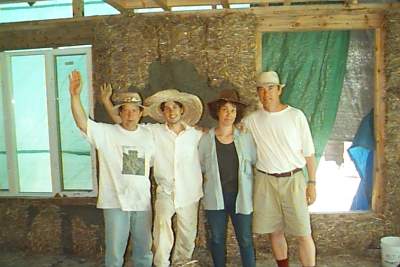 Resource persons: (left to right): Michel Bergeron, Gabe Prost,
Linda Chapman, Norbert Senf.
---
This page last updated on May 31, 2004
Heat-Kit
Gallery
Brick Oven
Page

Bookstore
Library
Masonry
Heater
Mall
Current
Projects
Contact
Search
Links
FAQ
Back to Masonry Stove Builders home page: