---
Test HK-G14
February 21/06
Side kindling - an almost smokeless burn
Cold wood, large wood, large load, unrestricted air

Test HK-G14
Feb 21/06

63.2 lbs, including 2.5 lbs of kindling.

Kindling from left side.

Clean burn with large load of large, cold wood.
-- the Holy Grail !

Grate was opened at 72 minutes.

The animation shows a frame every 30 seconds of the burn for the first twenty minutes.

After that, it shows a frame every 5 minutes, so is speeded up by a factor of 10 until the end.

The animation loads frame by frame, and then starts repeating at a frame rate of 2 fps. To see it slowly, hit the "reload" button.

..

Note the near zero opacity (smoke), even at the beginning of the burn.

The kindling catches quickly, and the flames are not cooled by the fuel pile.

Note the rapid rise in exit temperature, compared to bottom-kindled burns G01-G12.

Note the flame ball forming on top of the pile

During earlier testing at Lopez in Seattle (1993-1995),
4 of the 50 runs were significantly cleaner than usual, and were all characterized by a flame ball that jumped above the pile early in the burn.

Further investigations with kindling methods were not carried out at the time.

We expect to have a new gas analysis system installed in approximately 2 weeks, and will be able to pursue this avenue in more detail.

In the Seattle tests with the Condar dilution tunnel, particulate emissions for the "flame ball" runs were in the 0.5 g/kg range, whereas more typical values were in the 1.5 g/kg range, using Douglas Fir cordwood.

In order to verify that low opacity readings translate into low EPA particulate numbers, testing will need to be repeated with a dilution tunnel.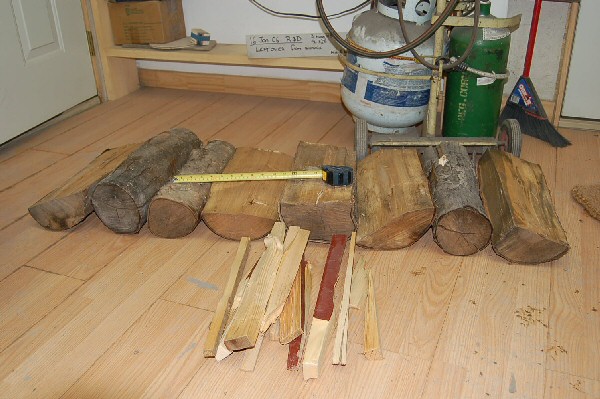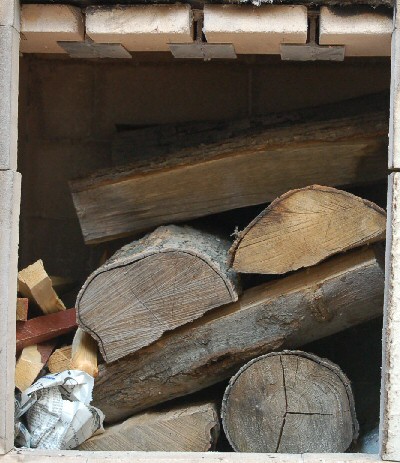 Fuel load
Pieces are numbered 1 - 8, from left to right.
They maintain their numbering during stacking, so the fuel pile geometry can be characterized.
Each piece is weighed separately and the circumference and length are measured.
The spreadsheet is programmed to add up the piece weights and calculate the
surface/volume ratio of the fuel pile.



---
This page was updated on February 21, 2006
This page was created on February 21, 2006