Masonry Fireplace
Clearances to Combustibles Test
UL-907 Protocol
OMNITEST Services, May, 2000
Introduction
Summary of Results
Conclusion
Description
Measurement Locations
Results
Data Sets
Thermal Simulation Software
Introduction:
Efforts are under way to update the clearances to combustibles requirements for the ASTM Guide to Solid Fueled Masonry Heaters.
OMNITEST
Summary of Results:
Jerry Frisch supplied the results below of the recent clearances to combustibles tests at OMNITEST Services.
Conclusion:
ASTM E1602 specifies a maximum surface temperature of 230F for masonry heaters.
The highest surface temperature reached on the fireplace back was 239F for a masonry fireplace using the UL-907 fueling protocol.
Description:
Measurement Locations:
5 calibrated thermocouples were located at the rear of the fireplace back
at 12" height increments, as shown below: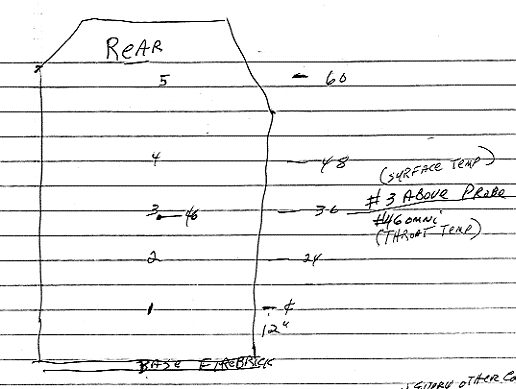 Results:
Surface temperature data were taken with a Raytek infrared thermometer by Jerry Frisch.
Simultaneous data were taken by by OMNI with calibrated thermocouples, using an
automated data aquisition system.
The IR thermometer data is shown in the graph below
Data Sets
Download the data in Excel 97 format. Check back regularly for updates
---
This page last updated on June 1, 2008
This page created on March 26, 2000