Rocket/Bell update from Peter van den Berg, Oct 12/09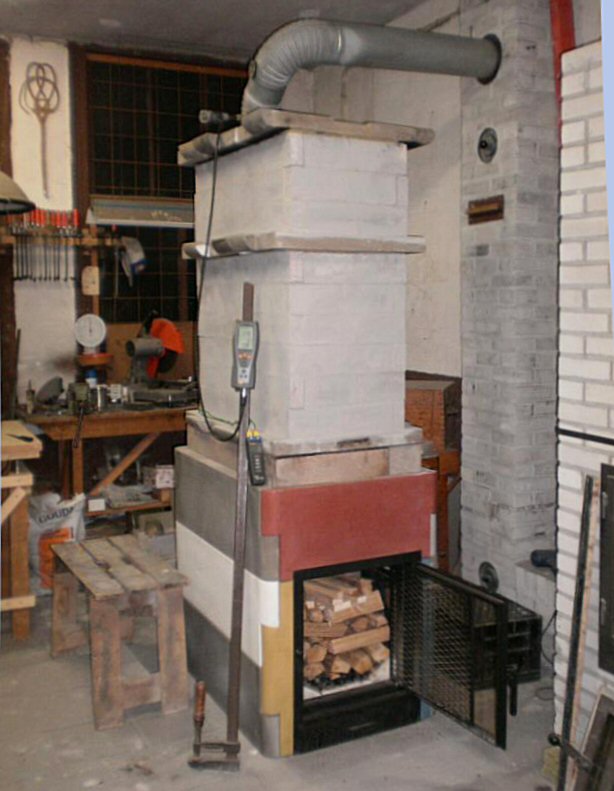 Subject: re: rocket/bell
To: Norbert Senf <mheat(at)heatkit.com>
From: Peter van den Berg <peter(at)pberg.demon.nl>

Hi Norbert,

Next iteration of the rocket/bell combination is ready. A little bit
later than expected, I had to wait for some metalwork to be completed.

The first real test run looks good. Loaded with oak and beech, 24
pounds, warm start and top lit. Little bit under air, over air via
front and side air at the level of the rocket syphon opening.

The syphon is 1.5 times wider than before but the exit stove pipe is
the same, 6 inches. One new aspect, see graphic, just after a slight
rise in the CO level the O2 did go up. Shortly after that the CO went
down again with the O2 level following behind. That's the effect which
is visible in the course of the blue line.
Another new and quite unexpected phenomenon is the extremely low O2
level at some points. As low as 6.1% at 24, 30 and 38 minutes. Two of
the three points do correspond with the lowest CO levels in the
graphic. In the dry-out burn the O2 level came down as low as 4.2%,
with a normal air supply. To be honest, it did alarm me but I couldn't
find anything incorrect.

Efficiency is lower than before, the whole thing is tuned down a bit.
Mainly because I don't want to develop a stove which won't run before
the stack is heated up with a torch. The stove is scaled up to a level
which is considered quite large in this part of the world. Built up in
the same way as the base, see picture, the weight will be in the range
of 2.5 US tons. The colours are accidental, leftovers from the firm
which produces the Bergkachel.
In due course, I will make a SketchUp 3D drawing available with the
correct dimensions. Just in case someone else want to try his or her
hand on a stove with the right proportions for North America.

regards, Peter
Download complete Condar spreadsheet
See previous discussions with Peter van den Berg, including more stove details.
---
This page updated on October 12, 2009
This page created on October 12, 2009