Stucco Heaters with Centre Chimneys
Plan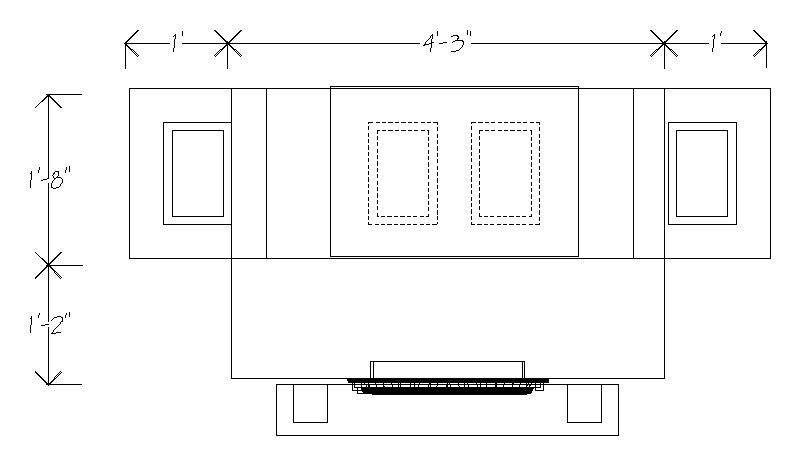 Construction Details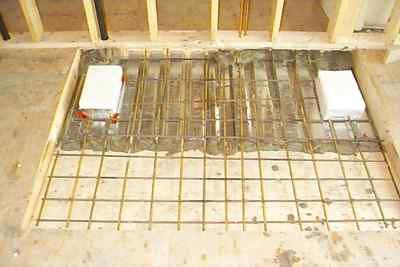 Forming in place for slab. Metal V-pan is used to close off the foundation.
Cement board can also be used.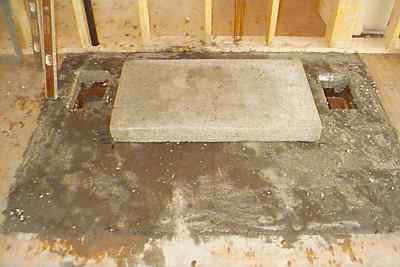 Slab poured. Insulating base slab for heater laid up dry to check
measurements. Note pencil marks at corners for later placement.
This heater has no ash dump to basement because it is stacked on top
of a basement heater.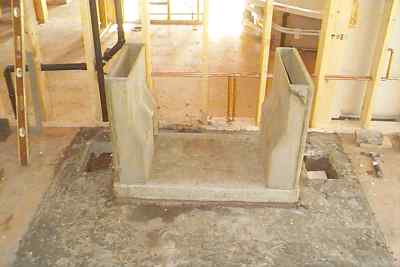 Base channels in place. Chimney connection is on left side.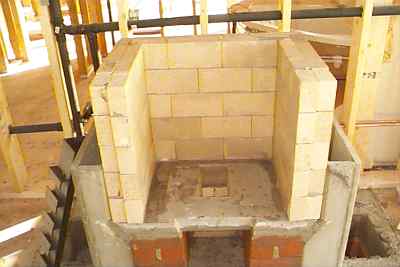 Completed firebox.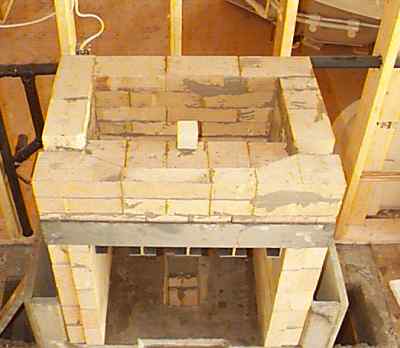 View beneath oven floor.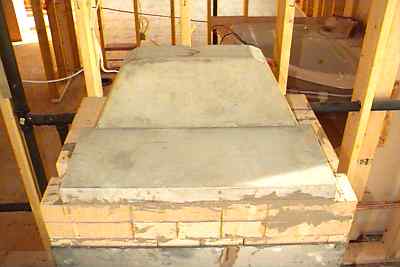 Oven floor and back casting in place.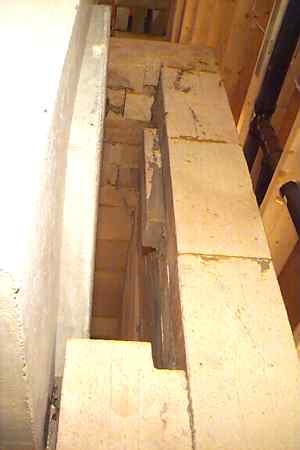 Oven in place. View of channel at rear of oven. Notches and
projecting ledge to retain 1" insulating board are shown.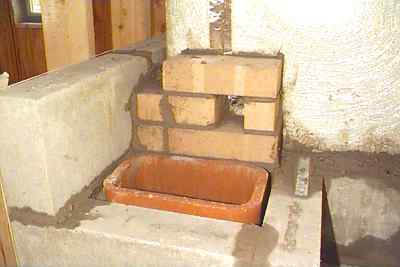 Bypass connection detail.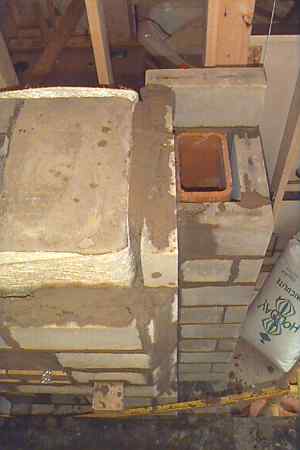 Detail of mortar slush between facing and core. Note that the
Fiberglass mat provides separation all the way around ceiling slabs.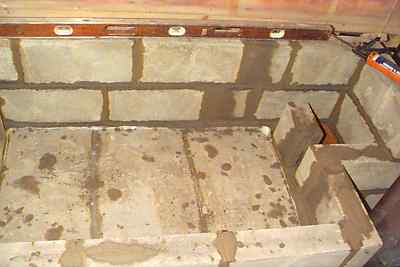 Facing is brought up to height of heater. A steel lintel will run across the
front to provide support for the chimney.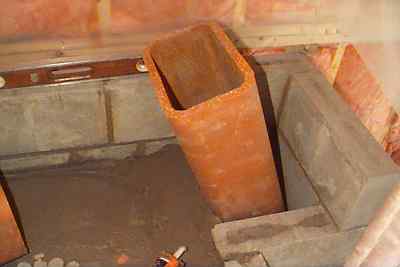 Angle cut in flue liner to bring flues towards centre. Mortar capping above
insulating mix is in place and seals the heater core.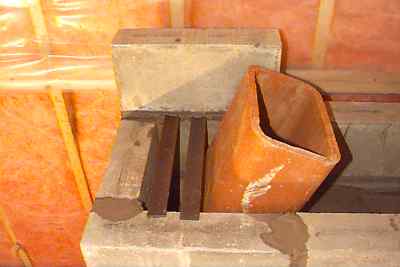 Steel support for angled chimney. Outer facing runs up plumb to ceiling.
Chimney steps back as it penetrates the roof.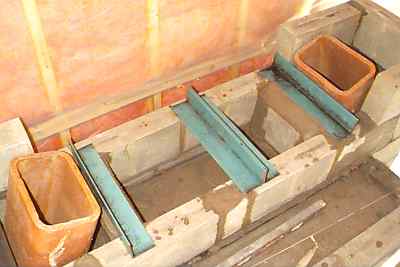 Front blocks rest on a 1/2" X 5" X 5" angle iron.
Shorter 1/4" X 3.5" X 3.5" angles are used to bridge in the other
direction.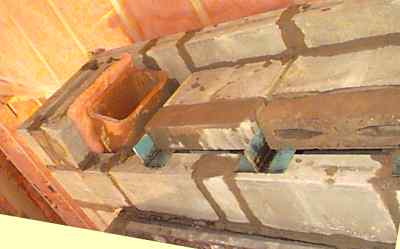 Blocks laid flat seal the bottom of the chimney cavity, which is independent
of the heater core. The heater core itself cannot be used to support
any weight.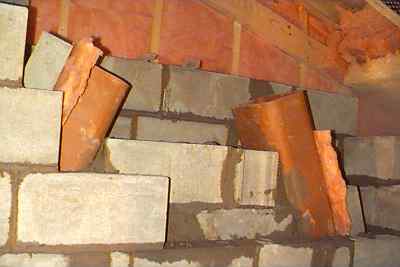 Block fill in between flues. There will only be the code-required
4" fill between blocks as the chimney narrows above the roof line.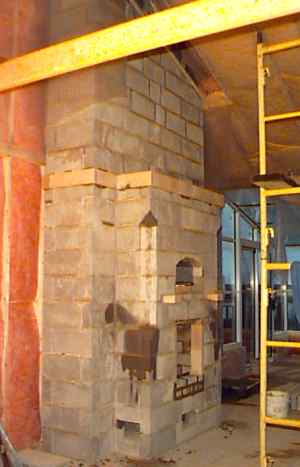 Dec. 6/99: Upper heater prepped for basecoat. Holes in the
mortar joints have been filled, and protrusions knocked off.
A band of 1.25" firebricks has been added at height of heater top to provide a
plaster detail. Bottom detail of corner relief on heater has been cut
in place with a diamond saw (dark patch is from water spray to prevent
dust). Top of corner relief detail, previously sawn in place, is finished to exact
shape with mortar.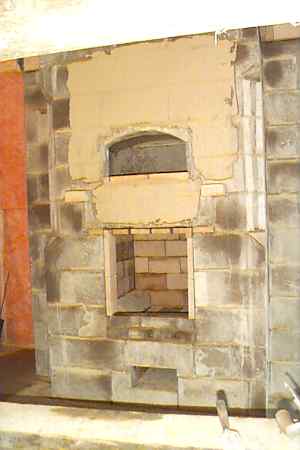 Clay bondbreak is skimmed on first
floor heater.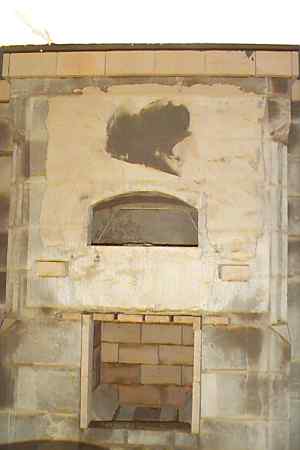 Glass mesh is embedded in high stress area above
firebox.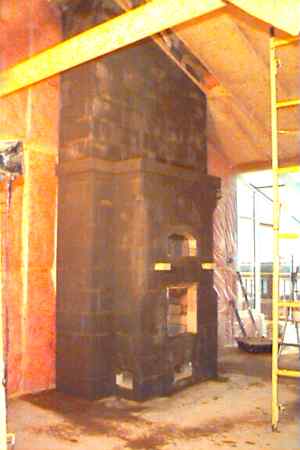 Base coat on first floor heater.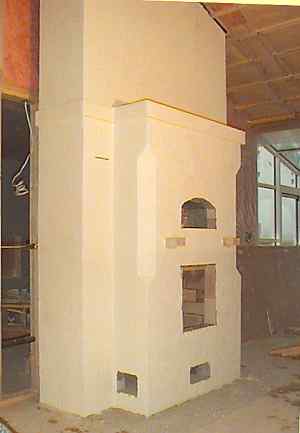 Stucco on upstairs heater.
This page last updated on March 30, 2003
This page created on July 1, 2002
---
Back to: